NAIA Champions of Character
Avila University is committed to the National Association of Intercollegiate Athletics (NAIA) Champions of Character program. Each year the University works toward becoming a Champions of Character 5-Star Institution and in the 2019-2020 season, Avila achieved Gold Five-Star Status.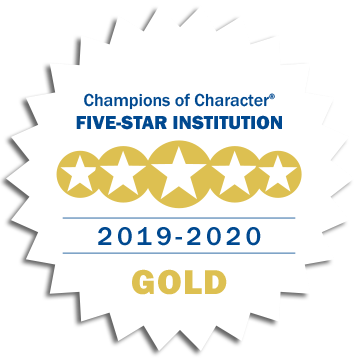 The Champions of Character program instills an understanding of character values in sport and provide practical tools for student-athletes, coaches and parents to use in modeling exemplary character traits. The vision of the Champions of Character program is to change the culture of sport. Its mission is to provide training to instill the values that build character so students, coaches and parents know, do and value the right thing on and off the field.
The Champions of Character program helps participants find the balance by keeping five core values – integrity, respect, responsibility, sportsmanship, and servant leadership – at the heart of the athletics experience. Students learn to understand how the values play out in both practice and competition. Coaches are taught how to intentionally define, model, shape and reinforce the values through their coaching and mentoring. Parents learn how their behavior is key to supporting their athletes.
Last year 181 member institutions were named Champions of Character® Five-Star Award winners.