Preparing Nursing Leaders in Missouri and Across the Country.
For more than 70 years, Avila University's School of Nursing in Kansas City, Missouri enjoys an outstanding reputation for preparing leaders in the field – the result of an innovative, 21st-century curriculum. Students at Avila University are motivated and committed to their education. They are taught by faculty who have significant clinical experience and graduates of Avila's nursing program are sought after by employers.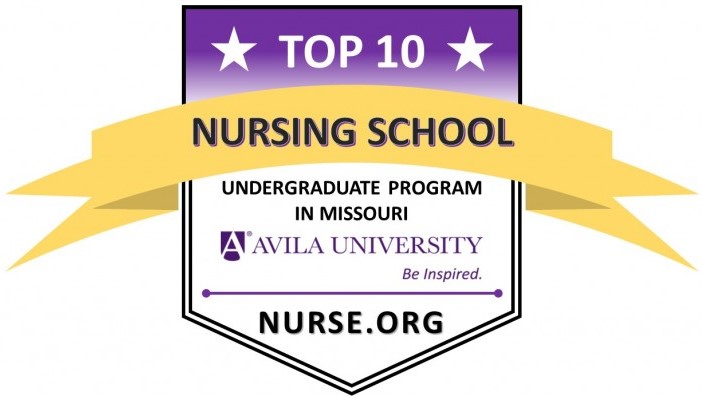 Why Nursing School at Avila?
Because of our strengths.
Avila nursing students are motivated, intelligent, committed, and highly capable.
Faculty with clinical and academic experience, energy, and commitment to progressive nursing education.
The Avila nursing curriculum prepares you for the future and provides a wide variety of clinical experiences, including many community-based clinical experiences.
For a satisfying career…
Avila has an outstanding reputation as one of the oldest baccalaureate programs of nursing in the metropolitan area, and one that prepares students for nursing careers and nursing leadership positions.
The Avila nursing graduate is well prepared to begin a successful nursing career in a variety of settings and to contribute to nursing membership and activity in professional nursing organizations.
Avila nursing graduates are/have been employed in the following positions of nursing leadership: directors of agencies including home health and long-term care facilities; hospital administrator of a rural community hospital in Kansas; entrepreneur in the field of nurse executive placement; leadership roles of the American Nurses' Association; executive director of a national research project based in Kansas City to enhance underprivileged family well-being, nursing program directors and faculty.
To experience our Nursing Education and Resource Center (NERC)
The NERC provides a simulated hospital environment where students learn to assist patients and provide basic to intensive nursing skills.
The NERC provides meeting and workspace for independent and group study.
For Our Simulation Program
Nursing students participate in a variety of simulations throughout the nursing program, including virtual simulations, high-fidelity simulations, mass casualty simulations, and home healthcare simulations. Simulation and the strong debriefing process allow students to build teamwork, enhance clinical judgment, and reflect on their own actions in a variety of clinical situations.
Nursing Resources
American Association of Colleges of Nursing (AACN)
American Nurses Association (ANA)
Commission on Collegiate Nurse Education (CCNE)
National Council State Board of Nursing (NCSBN)
Pearson Professional Centers
Home Care Nursing
Kansas
Kansas State Board of Nursing (KSBN)
Kansas State Nurses Association (KSNA)
Missouri
Missouri Division of Professional Registration (MSBN)
Missouri League for Nursing (MLN)
Missouri Nurses Association (MONA)
The mission of the School of Nursing, guided by our Catholic identity, is to prepare nursing graduates for generalist practice in a complex and ever-changing health care environment.  Graduates will:
discover, understand, and appreciate the human responses and varied perceptions of life experiences;
understand the nursing role in socially and globally responsible health care;
participate with others in achieving health and optimal responses to life experiences through safe and quality patient-centered care, evidence-based practice, and effective communication; and
assume professional nursing roles of provider of care, designer/manager/coordinator of care and member of the interprofessional team who advocates for the patient and the nursing profession.
The School of Nursing at Avila University supports and is consistent with the values of the larger Avila Community including excellence in teaching and learning; the worth, dignity, and potential of each human being; diversity and its expression; the development of the whole person; right relationships, with God, self, others, and creation; service with the dear neighbor.  In addition, the School of Nursing is responsive to changing demographic, academic, technological, and practice environments including the ongoing incorporation of professional guidelines and evidence-based findings into the academic program.
The professional nurse is educated through a baccalaureate of science in nursing degree.  This educational process includes preparation in the liberal arts, behavioral, biological, and natural sciences, communication, and technology, as pre-requisites for nursing courses.  This process prepares the graduate for entry into generalist practice and facilitates professional role competency as a provider of care, designer/manager/coordinator of care, and member of the interprofessional team who advocates for the patient and the nursing profession.  To best meet these role expectations, the professional nurse must embrace the values of caring and continuous professional development, and recognize varied perceptions of and responses to life experiences that people encounter.  The professional nurse respectfully acknowledges individual differences and the importance of these differences in achieving health and optimal responses to life experiences.
Health is viewed holistically and globally, encompassing individuals, families, communities, and populations with varying degrees of health- or illness-related needs and perceptions.  Health is determined by the perceptions of the individual.  Health includes the promotion of wellness as well as the treatment and prevention of illness and the impact of social determinants of health on individuals and populations.  The nurse's role in the promotion of wellness is becoming increasingly important to our society.
A person is defined broadly as individuals, families, communities, and populations.    Health and illness-related needs are encountered in broad and diverse environments including home, school, hospital, clinic, neighborhood, and faith-based settings.  The curriculum is based on the belief that all individuals have the ability to self-determine and to impact their health and environment.
Teaching strategies facilitate students to make connections between the liberal arts, sciences, and nursing practice.  Effective teaching occurs in a supportive environment. Teaching/learning strategies facilitate active learning and are collaborative.  Clinical experiences, in a variety of environments, including simulation, are designed to facilitate the application of learned material to the care environment.  Learning is evidenced thorough assessment of the student's increasing knowledge base, ability to apply such knowledge to practice, and personal, social, spiritual, and professional development.  Program outcomes assessment and constituency satisfaction guide curriculum decisions.
With an ever-increasing body of knowledge, new evidence for best practices, and shifts in the type of patients and settings in which nurses provide care, the curricula and courses provide opportunities for students to search, retrieve, critique, and synthesize information for making situated clinical judgments.  In other words, the faculty believe students are best prepared to practice if they think conceptually.  Giddens, J.F. (2017).  Concepts for Nursing Practice (2nd ed.).  Elsevier: St. Louis.
Responsibility for learning resides in the student. Lifetime learning requires self-direction, self-motivation, continuous acquisition of new knowledge and skills, use of effective and facilitative communication, clinical reasoning, and evidence-based decision-making.  Throughout their baccalaureate education, students make connections between their liberal arts and science courses to nursing practice. Evaluation of learning focuses on the achievement of effective communication skills, higher-level thinking skills, and role development in a changing practice environment.
The School of Nursing gratefully acknowledges the sponsorship, contribution, and far-reaching vision of the Sisters of St. Joseph who established this program over 70 years ago.   The education provided reflects the Sisters' charism to recognize and care for the dear neighbor and to promote right relationships and social justice.
The rich history Avila University enjoys is rooted in the Sisters of St. Joseph, founded in LePuy, France in 1650 to respond to the needs of society by serving their neighbors.
In 1836, six Sisters arrived in America and traveled the Mississippi River to St. Louis, Missouri, and settled in a small town south of the city known as Carondelet. These women established several schools and were soon known as the Sisters of St. Joseph of Carondelet (CSJs).
In 1866, six Sisters came to Kansas City, Missouri, and opened the first private high school for young women, St. Teresa's Academy.
In 1916, the academy administration chartered the first private college for women in Kansas City, St. Teresa's College. The college offered a two-year program leading to an Associate of Arts Degree. Fifteen years later, St. Joseph's Hospital School of Nursing, also associated with the Sisters of St. Joseph of Carondelet, became affiliated with the college and nursing students were enrolled in basic science and humanities courses.
In 1940, the college became the first four-year, liberal arts institution for women in Kansas City with professional programs in nursing, education, and business and was renamed The College of St. Teresa. The growth of the College of St. Teresa resulted in a move to its present campus in 1963.
In honor of St. Teresa of Avila, the college changed its name to Avila College. Seeking to serve a diverse population, the college became co-educational in 1969 and established graduate programs in business, education, and psychology in 1978.
Due to its continued growth as a comprehensive institution of higher learning, offering undergraduate and graduate programs, Avila College became Avila University in 2002; departments became schools or colleges and department chairs became deans. Subsequently, the department of nursing became the school of nursing and the department chair became dean.
In 1974, Avila became the first liberal arts college to establish a Sigma Theta Tau, International chapter—Beta Lambda. Avila and the University of Central Missouri created an at-large chapter in 2008. With declining activity and following much discourse, the chapter was closed in 2012.
Since it began in 1916, Avila University has been committed to excellence in teaching and learning in an environment that respects the uniqueness of each person and stresses responsible life-long contributions to the community. This commitment reflects the mission and purpose of the Sisters of St. Joseph of Carondelet, who continue to sponsor Avila University. The university was initially accredited by the North Central Association of Colleges and Schools in 1946. The university has enjoyed continuous accreditation since then. At its last comprehensive visit in 2008, Avila University received continued regional accreditation for a period of ten years. The nursing program received its first accreditation from the Missouri State Board of Nursing (MSBN) in 1948, the National League for Nursing (NLN) in 1966, and the Commission on Collegiate Nursing Education (CCNE) in 2000. The program has had continuous accreditation since that time. In 2020, the program applied for and was awarded reaccreditation by the CCNE for the maximum time period of 10 years. The program has full approval by the MSBN.
Nursing education at Avila University provides the academic preparation of nurses who contribute to the health care of those in need. This educational vision was made possible through the efforts of the Sisters of St. Joseph of Carondelet mission at St. Joseph Hospital (now St. Joseph Medical Center) and many others at the College of St. Teresa and Avila College (now Avila University) who valued the importance of academic preparation for nursing practice. The Sisters of St. Joseph established the St. Joseph Hospital School of Nursing in 1900 under the direction of Sister Irmenia Dougherty. This school of nursing became chartered in 1901. The development of the four-year nursing program originated after the close of World War II. The Sisters of St. Joseph of Carondelet recognized the need for advanced educational preparation for women in nursing and formulated plans to establish a department of nursing within the college.
Prior to September 1960, the college offered three programs in nursing: a three-year diploma program, a basic baccalaureate program, and a supplementary (continuing education) program for graduate registered professional nurses. In 1958, a decision was made to discontinue the three-year diploma program and to revise the curriculum of the baccalaureate program to enable the student to complete the requirements for a Bachelor of Science degree in four academic years. These changes took place in 1960. The SON continues the tradition of excellence in nursing through its undergraduate curriculum which provides the health care community excellent, well-educated nurses prepared to adapt to the ever-evolving health care environment.
Avila nursing outcomes
Graduates report being able to easily secure employment after graduation.
Graduates report high levels of satisfaction with their nursing major.
Employers and alumni report satisfaction with their preparation for the nursing role.
The curriculum reflects current trends in healthcare and nursing education including communication, clinical reasoning, leadership, scientific, and other professional skills that prepare the nurse for the future.
Students give high ratings to the quality of teaching and courses in nursing.
Frequently Asked Questions
When do you admit students? We admit students to the program twice a year. Students who wish to begin the program in the fall are notified of admission the previous spring. Students who wish to begin the program in the spring are notified of admission the previous fall. Applications are accepted year-round, and admission decisions are made twice a year for Fall and Spring admissions.
How many students do you admit annually? The School of Nursing is authorized by the Missouri State Board of Nursing to admit 68 pre-licensure students each year. These students are divided between the fall and spring cohorts.
What previous college-level work will meet the requirements? A strong background in liberal arts and science courses is required to be ready for the nursing program. Science and ethics courses over 10 years old will not be accepted. Equivalent courses are determined through a transcript evaluation. This is initiated through an application to Avila and a review of official transcripts. Students who believe they have knowledge competencies that are not reflected on the transcript evaluation can choose to test for competency in some courses or may petition for further consideration of course equivalency based, for example, on the substantiation of course content through course syllabi.
You can find course equivalencies between Avila and local 2-year institutions on our Transfer Student page.
Where do students at Avila receive clinical experiences? Nursing students participate in clinical courses in a variety of settings across the metropolitan area, reflecting the variety of settings in which nurses practice. These include acute care hospitals, outpatient clinics, schools, and hospices.
What documentation is required to participate in clinical experiences? Accepted students must:
Provide immunization documentation and other Avila and clinical agency requirements prior to the beginning of and continuing throughout nursing clinical courses (these requirements are subject to change).
Complete criminal disclosure information and background check.
Complete an alcohol and drug screen.
Hold current two-year certification through American Heart Association for Basic Life Support Health Care Professional.
Provide proof of the absence of active Tuberculosis (2-step TB screen or IGRA)
Carry health insurance coverage while in the nursing major (a health insurance form must reflect company and coverage, be provided annually, and be on file in the nursing office).
What resources do you have to assist with my learning? Avila provides Learning Services for students needing academic support. Career Services offers assistance in resume writing and interviewing skills. The Hooley-Bundschu Library & Learning Commons houses hundreds of videos, computer software, and interactive videos to assist the nursing student in the learning process. The Nursing Education and Resource Center houses low, medium, and high-fidelity simulators to provide practice opportunities in nursing interventions and clinical reasoning.
Do I need a car? Students must be responsible for their own transportation to clinical sites. Students typically drive themselves or carpool with other students.
Can I continue to participate in sports while attending nursing classes? Yes, we work with students to develop plans for continuing in their sports activities. Student-athletes learn to be proactive in studying and balancing their nursing courses and athletic obligations.
School of Nursing News
Come See Us
Visit Avila
Interested in learning more about Avila? We would love to host you for a campus visit. Learn more about individual and group visit opportunities.
Plan a Visit