Contact
Office of Ministry, Spirituality, & Action, (OMSA)
11901 Wornall Road / Kansas City, MO 64145
David Armstrong, Director of University Mission and Ministry
P: 816.501.2423 / E: david.armstrong
All Are Welcome!
Mass is celebrated every Sunday at 11 a.m. from August to May while classes are in session: Please note that Masses are not being held until fall of 2021 due to COVID-19.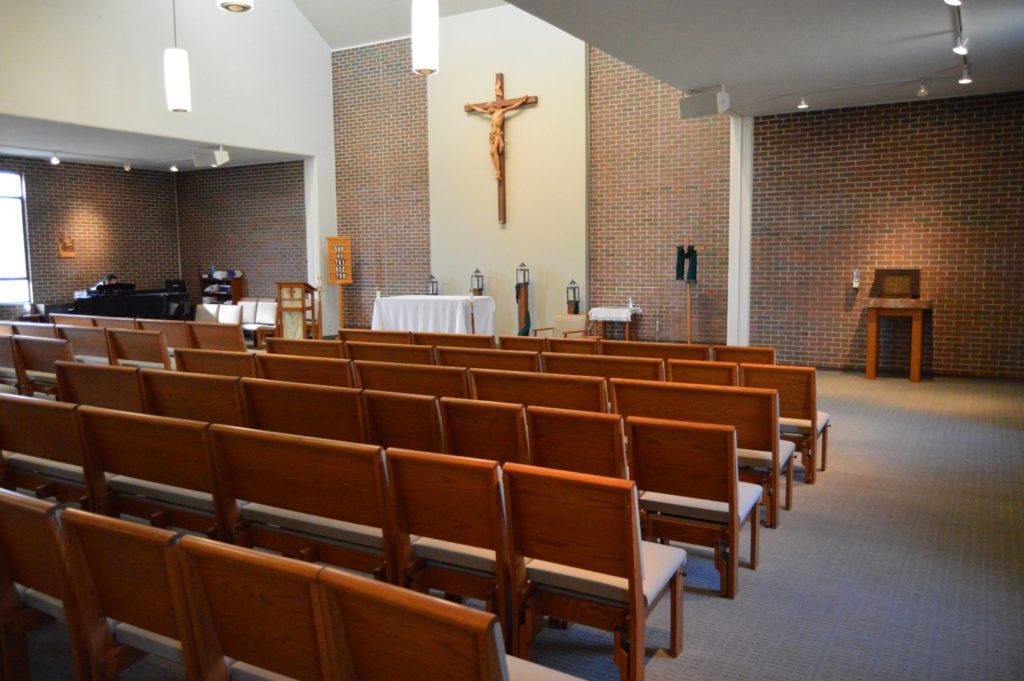 We encourage all Avila students, especially residents, to build our spiritual community by attending Mass on campus in Orscheln Chapel in Foyle Hall on Sundays during the school year. The public is invited to join us.
Holy Day and other special Masses
November 1 – 4 p.m.
December 8 – 4 p.m.
December 24 Christmas Vigil – Music: 4:45 p.m.; Mass: 5 p.m.
Ash Wednesday – 4 p.m.
Easter Sunday – 11 a.m.
Be Involved
We invite all interested to be a:
Sacristan
Lector
Eucharistic Minister
Choir/Cantor
Christmas Vigil Mass
December 24, 2023, at 4:45 p.m.
RSVP
All are welcome, but before you make your reservation, please read:
The reservation deadline is December 17th. Reservations can be placed after the deadline but you will need to look for an e-mail verification that we have space available.
Please do not overbook for your party and should your numbers change, please let me know at the email address below.
Please tell all your party members to arrive before 4:40 p.m. so not to disturb the setting with the music that begins at 4:45 p.m. with Mass at 5 p.m.
Please do not come to the service if you are not feeling well. Email any last minute cancellations to me at the email address below.
Know that the size of our venue will not allow for social distancing. If this is a concern, please do not make a reservation.
You will receive a confirmation e-mail. Should you have any questions or do not receive the confirmation, contact Dave at David.armstrong@avila.edu (preferred)– or at 816-501-2423.
Should a circumstance (weather or other) occur that affects the status of this Mass, you will receive a text at the phone number given.
Thank you!
Dave Armstrong
Director of Mission & Ministry
david.armstrong@avila.edu