Connect with us!
Need to meet with a Writing Tutor?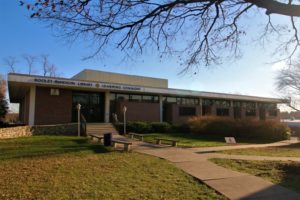 In-person and virtual appointments are available. In Navigate, choose Make An Appointment >> Academic Success and Tutoring Services >> Writing.
Mission Statement: In service to Avila University's mission to prepare lifelong learners, the Writing Center cultivates attentive writing practices through one-on-one in-person consultations with dedicated peer tutors.
Welcome to the Writing Center!
FREE help from experienced tutors with any writing project, at any stage of writing.
Located inside the Hooley-Bundschu Library & Learning Commons, the Writing Center hosts free online and in-person tutoring consultations for all Avila students – undergraduate, graduate, and Institute. We can assist with brainstorming, revising, and formatting course papers; drafting resumes and cover letters; and preparing for presentations. Our goal is to help writers better understand their own process and develop as thinkers and communicators. We offer in-person and online consultations five days a week. Schedule an appointment through Navigate, WritingCenter@avila.edu, or walk in during in-person hours. We look forward to your visit!
Resources
Writing Center Hours – Fall 2023
Sunday – 3:30-8:00pm
Monday – 10:30am-5:30pm
Tuesday – 10:00am-8:00pm
Wednesday – 10:30am-5:30pm
Thursday – 9:30am-8:00pm
Friday – 9:00am-5:00pm
If you have any questions, contact writingcenter@avila.edu.
Colleen Lockett holds degrees in Nursing (BA), English (BA), and Public Administration (MA) and serves as a Lead Academic Coach in Nursing for Academic Success and Tutoring Services in addition to working in the Writing Center. She is the mom of two teenage girls, comes from Dubuque, IA, and enjoys cooking, baking, reading, travel, hiking, and biking.
Alison Prettyman is majoring in English and minoring in Secondary Education. This is her second year at Avila and in the Writing Center. She is excited to help her peers organize and construct papers of which they can be proud. Alison also works as a carhop for her home town Sonic- Drive thru. If she isn't working, Alison enjoys spending time with her family, reading a book, and watching Netflix.
My Phuong Tran is majoring in Business Management. This is her second year at Avila University and her first year at the Writing Center. She loves writing and looks forward to helping her peers with their papers, as well as meeting fellow writers. She is part of the TRIO SSS program and likes exploring all things oriental, including East Asian culture, languages, destinations, and cuisine.
Contact
Writing Center Director
L. Ashley Squires, Ph.D., Assistant Professor / Writing Center Director
P: 816.501.3710 / E: ashley.squires