Graduate Psychology Admission Requirements
Regular admission to the Graduate Psychology Programs at Avila University is competitive and students are selected on the basis of their preparation and ability. If offered admission, that offers is specific to the term stated in the admission letter. If you do not register for classes or complete your first semester, you may be required to apply again in a subsequent semester. The School follows admission requirements and policies as stated in the graduate catalog.
Regular Admission
For regular admission consideration, a completed application packet must include:
Graduate application for admission
Transcripts from all colleges/universities attended, to include official transcripts reflecting an earned bachelor's degree from a regionally accredited institution.
Applicants who have not graduated with a bachelor's degree will be considered for regular admission before graduation. The University reserves the right to change the admission decision once the final, official transcript is received. All final transcripts must be received before enrollment beyond the first semester of enrollment is permitted.
A GPA of:
3.0 on a 4.0 scale for all undergraduate coursework
3.0 on a 4.0 scale for all graduate coursework, if applicable
A completed online application, including:
A statement of purpose/letter of intent. This is also used to evaluate your writing abilities.
Current resume
Two letters of recommendation
— Letters of recommendation should be from previous faculty, supervisors, or community leaders who are able to assess the potential future success of the applicant in a graduate program.
— Academic / faculty recommendations are strongly recommended
— Family members, familial-type relations, and friends are expressly prohibited from being recommenders.
A background check (counseling psychology applicants only)
The background check is considered separately from all other admission criteria when determining admission eligibility. Applicants will sign a release when submitting the online application giving permission to Avila University to obtain a background check through Validity Screening Solutions.
Applicants for degree-seeking admission who do not meet minimum requirements for regular admission may be considered for regular admission with a student status as good standing or probation. All students who complete application files will be considered for an admission decision, which includes admission, denial of admission, or admission in a non-degree seeking category. Students admitted on probation may have probationary conditions set at the point of admission. All degree-seeking applicants should apply for regular admission.
If admitted, the admission decision will also contain the admitted student status. An applicant, whose coursework does not reflect a foundation in psychology, as determined by the school, may be required to complete prerequisite coursework during the first semester of attendance.
---
Enrichment/Non-Degree Seeking Admission
Enrichment/Non-degree admission is reserved for applicants who have completed a graduate degree already, are not interested in completing a degree program in the School of Psychology, for applicants who may not meet regular admission criteria or for the applicant who is unable to complete the regular admission application packet. Enrichment/Non-degree seeking students are not eligible for federal financial aid. Maximum of nine credit hours available under enrichment admission status (without departmental approval). For admission as an enrichment/non-degree student, a completed application packet must include:
Enrichment Enrollment form (provided by admissions – please email gradpsych@avila.edu)
Official or unofficial transcripts from:
All institutions where graduate-level coursework was completed.
Undergraduate degree-granting institution if no graduate degree has been conferred.
A GPA of:
3.0 on a 4.0 scale from the undergraduate degree-granting institution
3.0 on a 4.0 scale for all graduate coursework, if applicable
The School of Psychology will determine which courses are open to enrichment/non-degree enrollment. Prerequisites for all courses must be met before enrollment will occur.
Meeting the minimum admission requirements in any admission category does not guarantee admission into any graduate psychology degree or certificate program. Additionally, graduate psychology students are expected to adhere to all policies outlined by the University, this catalog, the Graduate Psychology Student Handbook, and any other documentation provided by the Department of Psychology during their time in the program. Applicants who fail to provide accurate, original documents during the admission process, or who show, in additional ways, that they are not prepared to succeed in the graduate psychology degree programs, may have their admission decision reversed and be denied from the school's programs.
---
International Applicants
Applicants whose primary language is not English are required to submit an official TOEFL (Test of English as a Foreign Language) or IELTS (International English Language Testing System) score report. The examination results should not be more than two years old.
The minimum overall TOEFL score required for admission is an 89 iBT (internet-based test), with no individual score below 20. Alternative TOEFL exams will use an equivalent score. Additionally, those applicants who did not complete the iBT may be required to complete an interview before an admission decision is considered.
The minimum IELTS score required for admission is an overall score of 7.0 with no band score below 6.5.
Completion of an intensive English program does not waive the required submission of a TOEFL/IELTS score report.
For the purposes of this requirement, only the following countries/provinces and their associated territories are considered as having a primary language of English: United States of America, United Kingdom, Australia, Ireland, New Zealand, and certain areas of Canada. Applicants with a bachelor's degree from an English language-based institution may waive this requirement.
All transcripts must be official as determined by Avila University. If the original transcripts are not provided in English, official translations of official transcripts must also be submitted. All admitted international students must submit a Statement of Finance. Proof of financial support showing the ability to meet the costs of study in the United States must be provided. Proof of health insurance coverage is required before enrollment is allowed.
For more information contact: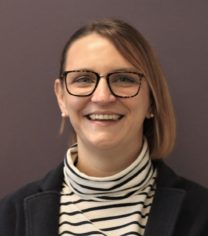 ---
Transfer Credit
Transfer applicants may request an evaluation of transfer credit once admitted to the program by completing an Evaluation of Transfer Credit Request form. Students in the psychology degree program may request the transfer of up to 9 credit hours. Students in the counseling psychology program may request transfer credit for up to 15 graduate-level credit hours. Quarter hours may be transferred to meet specific course requirements, but will only be counted for equivalent hours. The awarding of any transfer credit is at the discretion of the department.
If a previous graduate degree was completed at Avila University, a minimum of 24 additional, non-duplicative credit hours must be taken for any subsequent graduate degree. All previous hours completed for a different degree program may be counted as transfer credit.
While Avila University may allow transfer credit for program requirements in the Counseling Psychology degree program, each state determines the educational requirements necessary for licensure as a professional counselor.
Please Note: a) transfer credit must be approved during a student's first semester of study; b) courses taken at another university after a student has begun graduate work at Avila must be pre-approved by the Graduate Psychology Enrollment and Retention Manager.