Upcoming BIPN Events
BIPN Film Series: Social Justice in Disney Movies
Join BIPN to build community while watching, reflecting, and discussing films and social justice! Students, faculty, and staff are welcome.
The Buchanan Initiative for Peace and Nonviolence is hosting a three-part series called Social Justice in Disney Films. Participants will watch a Disney movie and then join in a discussion on a Wednesday afternoon. We will explore the themes of social justice present in Disney movies. Themes include society, bias, stereotyping, prejudice, hope, culture, and more. Wednesdays at 3:30 in Carondelet Activity Room.
Wed, April 5: Zootopia
Wed, April 12: Coco
Wed, April 19: Frozen 2
Past Events
 "A Partnership for Justice and Remembrance" with Bryan Stevenson, Director of the Equal Justice Initiative
Tuesday, April 27, 2021, at 6 p.m. CST
Free and public online lecture and live Q&A session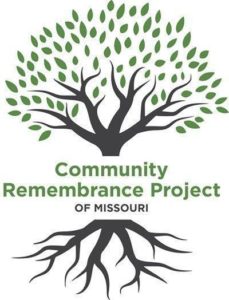 The Buchanan Initiative for Peace and Nonviolence at Avila University is proud to sponsor the Community Remembrance Project of Missouri in partnership with the Kansas City Athenaeum, the Ewing Marion Kauffman Foundation, Reaching Out from Within, and William Jewell College. We are also proud to be in partnership with the Black Archives of Mid-America, Bruce R. Watkins Cultural Center, the Kansas City Museum, Missourians for Alternatives to the Death Penalty, the Lawrence A. Jones and Sons Funeral Chapel, and the Nelson Atkins Museum of Art.
The sponsors of the Community Remembrance Project with support from the UMKC Carolyn Benton Cockefair Chair and Kansas City Friends of Alvin Ailey proudly present:
Bryan Stevenson is a widely acclaimed public interest lawyer dedicated to providing help to the poor, incarcerated and condemned. As founder and executive director of the Montgomery, Alabama, based human rights organization, the Equal Justice Initiative, Stevenson has argued and won multiple cases at the U.S. Supreme Court. His organization has won major legal challenges eliminating excessive and unfair sentencing, exonerating innocent death row prisoners, confronting abuse of the incarcerated and the mentally ill, and aiding children prosecuted as adults.He and his staff have won reversals, relief and release from prison for more than 135 wrongly condemned prisoners on death row and relief for hundreds of others wrongly convicted or unfairly sentenced. Stevenson also launched major new anti-poverty, anti-discrimination efforts challenging inequality in America through the creation of two acclaimed cultural sites: the Legacy Museum and the National Memorial for Peace and Justice.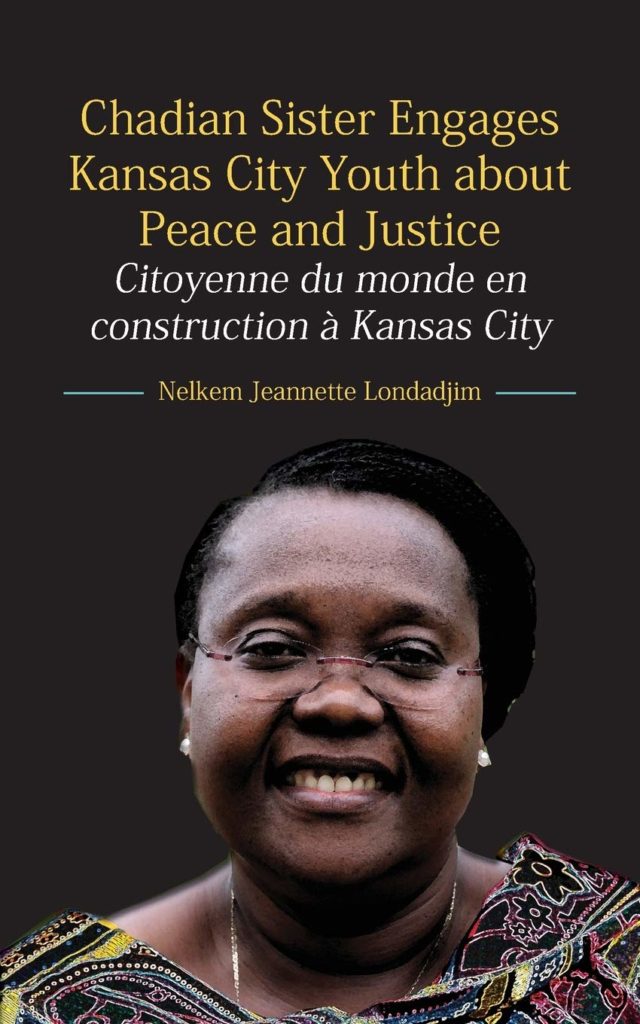 Avila University and the Buchanan Initiative for Peace and Nonviolence welcome you to join them at 2 p.m. CST on Wednesday, April 21 for a special bilingual Zoom conversation with 2017 Buchanan Initiative Activist in Residence Sr. Jeannette Londadjim as they discuss her recently published collection of essays, Chadian Sister Engages Kansas City Youth about Peace and Justice.
Chadian Sister is an intimate, emotional series of explorations of faith, social justice and community. Written before, during and after her three-month residency in Kansas City, Sr. Jeannette details how she connected with Avila students to discuss their aspirations and to encourage them to be "artisans of peace and justice." Featuring an introduction by Carol Coburn, Professor Emerita of Women's and Gender Studies at Avila, the book is a shining example of the power of the global CSJ family.
As a special bonus, the first 25 registrants will be eligible to receive a free copy of Chadian Sister Engages Kansas City Youth about Peace and Justice after the event.
Pope Francis' encyclical, Laudato Si, calls for a "broad cultural revolution" to confront our environmental crisis. Sister Barbara Jennings will explore this encyclical and the role of shareholders that the Sisters of St. Joseph and our founding institutions have practiced over the years, especially in light of our Planet Earth.
This event is complimentary through the generosity of our sponsors, the Ewing Marion Kauffman Foundation and the Buchanan Institute for Peace and Nonviolence (BIPN) at Avila University. 
ABOUT SISTER BARBARA
For 12 years, Sister Barbara served as the coordinator of the Midwest Coalition for Responsible Investment (MCRI), a coalition of women's and men's religious congregations in the St. Louis who identified environmental, social and governance issues in corporations.
Also a member of the Interfaith Center for Corporate Responsibility (ICCR) in New York City, the two organizations worked with local corporations such as Monsanto, Boeing, Ameren, Arch Coal and others by meeting in dialogue about clear and doable goals, writing shareholder resolutions and attending annual shareholder meetings.
In 2019, MCRI merged with the Seventh Generation Interfaith Coalition for Responsible Investment (SGI). Sister Barbara remains a board member at SGI and continues to work locally and with ICCR groups on certain corporate issues such as human rights, coal ash and the environment.
COMING SOON!
The photo gallery and video of the 2018 conference should be available by mid-February 2019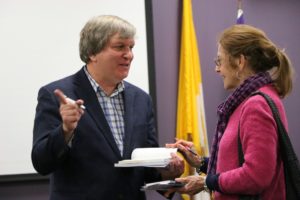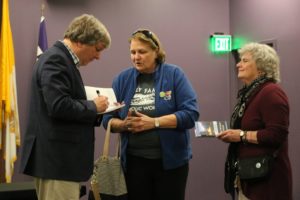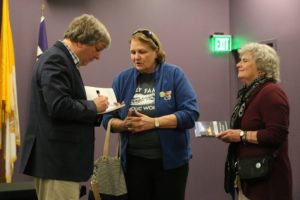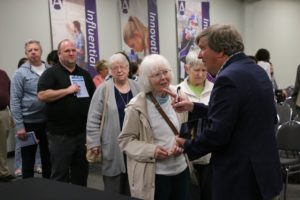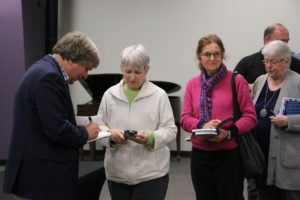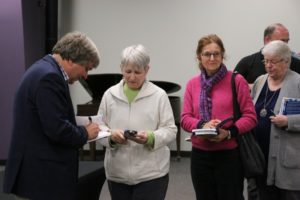 5th Annual Peacebuilding and Nonviolence Conference
The Buchanan Initiative at Avila University joined Johnson County Community College, Park University, and the International Relations Council of Kansas City in hosting the fifth annual Greater Kansas City Peacebuilding and Nonviolence Conference. To kick off the three-day program, BIPN hosted a film screening of Spike Lee's Chi-Raq in the Thornhill Gallery. Following the screening, students from Avila's School of Visual and Communication Arts presented their interactive posters during a public reception. The day's program concluded with a moderated panel discussion featuring screenwriter Kevin Willmott.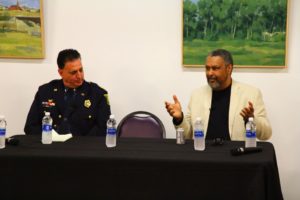 Troost: A Vision for Peace and Action
This conference brought together community leaders who are fighting for justice throughout the Kansas City area. Troost Ave. has long been considered a racial dividing line in Kansas City. Troost carries a rich history of peace and conflict that everyone in Kansas City must know. Keynote speaker Fr. Alexii Altschul, founder of Reconciliation Services, discussed the rich history of Troost, the problems created by hyper-gentrification, and ways we can take action and promote development without displacement.