FAQs
We are located inside of Dallavis Center, room 812B. Walk in the main door of the building and go straight through to the end of the hallway straight ahead!
Current Avila students, faculty, and staff.
You only need to come to the pantry, where you will be asked to sign in. This information is kept confidential and helps Harvesters supply us with food to match the need on our campus. Once you have signed in, you are free to shop the pantry! You can also sign-in in advance on the day of your visit using this link. Please do so every time you come visit us!
Thanks for reaching out to us with this common concern. In reality, at a moment's notice, any of us can find ourselves in a life-changing situation that leads to food insecurity. Hunger and low nutritional quality food leads to headaches, anxiety, loneliness, impatience, frustration, and diminished energy. Food assistance is not a hand out—it is a hand up to physical health, academic, and workforce success, as well as emotional well-being and community connections. We are deeply committed to making sure that our shoppers are treated with respect, dignity, and support. Shopping at FYF doesn't mean you are failing—it means you understand that nourishment paves the way to success! Our pantry is anonymous, confidential, and discrete. Food choice and plentifulness is one way Avila can provide resources to improve health and quality in everyone's life.
First, it is very normal to feel some nervousness the first time a person tries anything new! We hope that won't stop you from coming to the pantry. We assure you that we are committed to making your use of the pantry as comfortable and easy as possible.
When you arrive, walk in and one of our staff or volunteers will usually be there to greet you and explain how things work. If the door is open and no one is there – you can go ahead and start shopping. Basically, the pantry is set up just like a small grocery store. You are welcome to browse selections and take whatever appeals to you. Some customers shop for their lunch that day, others come in to stock up for the week or month. We are available to answer questions or help, but no one will be watching you shop or judging your choices, or the amount you select. If you would feel more comfortable with some help, you can always invite us to assist you, especially that first time when it might feel a little overwhelming. Pantry staff and volunteers are familiar with what's in stock and are happy to help you by pointing out popular items, or finding something you aren't able to, or just to save you some time if you are in a hurry.
When you are ready to leave, your selections will be weighed so that we can keep track of how much food is being distributed so that we can replenish the shelves. Your use of the pantry is always confidential, and all of our volunteers and staff have been trained to respect your privacy. If you are worried that someone you know may be in the pantry when you shop, please know that we also ask our customers to respect each other's privacy inside and outside of the pantry. If we see you outside of the pantry, your use of the pantry will never be mentioned, and it is up to you to decide if you want to interact with us or not. We'll follow your lead and if you'd prefer not to interact, we will always respect that, too!
The FYF pantry is here to help end hunger in our Avila community and provide the joy of delicious and plentiful food options in everyone's life. We hope you'll shop with us soon!"
Our hours of operation are updated each semester. Please refer to the Hours & Location information in the right column page to find our current hours.
No, we do not have any type of verification process. Current Avila students, faculty, and staff are eligible to shop the pantry, regardless of their income.
Feed Your Friends food pantry service is provided at no cost to the customer and no payment involved, thanks to Harvesters, the Community Food Network, other affiliated organizations, and private donors.
No, you currently do not need to bring anything with you at the time of your visit.
If pantry customers are able, please bring a reusable bag! If not, we try to keep some in stock. If pantry customers do use one of our reusable bags we request that you remember to return them to the pantry or use them on your return trip(s)!
Feed Your Friends food pantry service is provided at no cost to the customer and no payment involved, thanks to Harvesters, the Community Food Network, other affiliated organizations, and private donors.
If you'd like to support the pantry, you can donate by clicking here. It will take you to our page with information on donations.
The pantry is always welcoming new volunteers. If you are interested in volunteering, please fill out this form stating your interest and availability.
The food pantry is managed by a group of Avila students, including a Pantry Coordinator, a Pantry Assistant, and trained volunteers.
Lea Morvan, Food Pantry Coordinator
Kaila Cranwill, Food Pantry Assistant
Lindsay Beardall, Feed Your Friends Committee Chair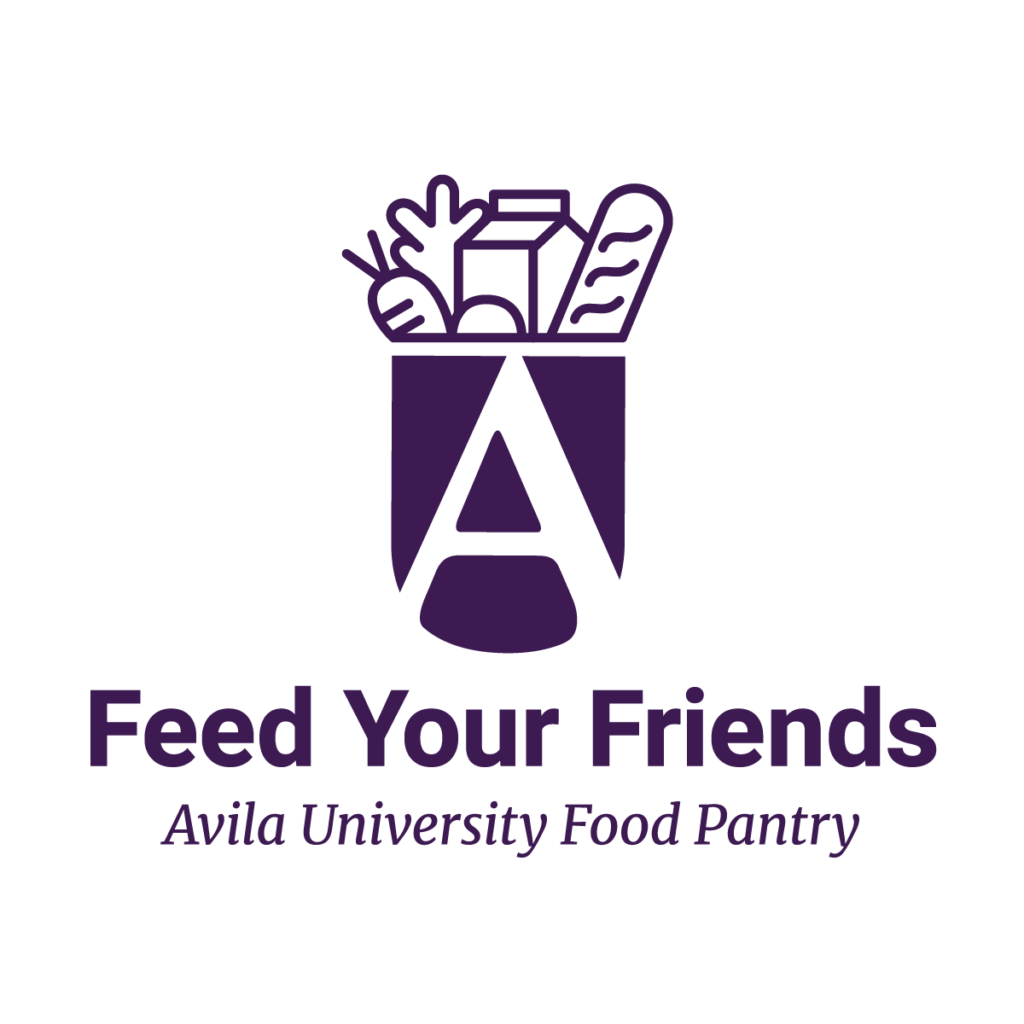 Hours & Location
Fall 2020 Hours*
Monday-Thursday: 12-6 p.m.
Friday: 9 a.m. – 12 p.m.
Weekends: By appointment via email
*High-need food and personal care items will be available at all times in the shelves located in the hallway next to Feed Your Friends
Avila University (campus map)
Dallavis Hall Rm. 812
11901 Wornall Road
Kansas City, MO 64146
COVID-19 Safety Protocols (current as of Oct. 13, 2020)
Contact Us