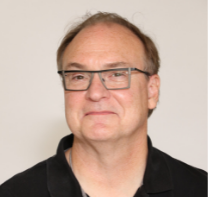 At the Iowa City Yacht Club, Dr. Jeffrey Myers, Professor and Chair of History at Avila University, waited with guitar in hand to sit in with the Blue Tunas, the house blues band—a respite from graduate school and an opportunity to experience the terror and exhilaration of live music. However, it is blues in a larger theoretical sense that also relates to Dr. Myers. A vital element of the blues is call and response, something that has become a centerpiece of Myers's later research in a completely different context.
Dr. Myers, a preeminent Holocaust scholar and historian of German history, was called to study the Holocaust after hearing a survivor bear witness. His response has come via teaching and scholarship to preserve the memory of and advocate for victims of this dark time in history.
Myers received his Ph.D. in history from the University of Iowa. He then studied as a research fellow at the University of Freiburg and the Institute for European History in Mainz. During these four years, Myers honed his knowledge of the language, culture, and history of Germany and witnessed history in the making with the fall of the Berlin Wall and German reunification.
At Avila University, Myers teaches German history, world history, and co-teaches the Holocaust in History and on Stage, an interdisciplinary course that explores the intersection of history and theatre. Myers has served as a Blue Ribbon Judge for the White Rose Essay Contest sponsored by the Midwest Center for Holocaust Education, an organization that recently named him to its Board of Governors. Dr. Myers and co-author Dr. Charlene Gould from theatre have written an article exploring representation in Holocaust theatre, which will be published in a forthcoming anthology.
World History, German history, Holocaust Studies, Russian history, History of the First World War, Fairy Tales and Culture; Staging History (co-taught with Professor Gene Mackey--Theatre); Plagues (co-taught with Dr. Stephen Daggett--Biology)
Ph.D. in History The University of Iowa, Iowa City, Iowa 1997
M.A. in History The University of Iowa, Iowa City, Iowa May 1987
B.A. in History Education with Honors Western Illinois University, Macomb, Illinois May 1984
Awards
The Annual Summer Institute on the Holocaust and Jewish Civilization Holocaust Educational Foundation Fellowship Northwestern University, Evanston, Illinois Summer 2000
Symposium for Former DAAD Scholarship Holders from North America; "United Germany in a United Europe: Change and Challenges" German Academic Exchange Service (DAAD) Fellowship Center for European Studies, Harvard University, Cambridge, Massachusetts October 1995
Stanley Fellowship for Graduate Study Abroad The University of Iowa, Iowa City, Iowa Summer 1993
Institut für Europäische Geschichte (Institute for European History) Research/Writing Fellowship Institut für Europäische Geschichte, Mainz, Germany October 1991-December 1992; Summer 1993
German Academic Exchange Service (DAAD) Language Course/Research Fellowship Albert-Ludwigs Universität Freiburg, Germany Language Course/ Research Fellowship August 1989-August 1991
University Outstanding Teaching Assistant Award The University of Iowa, Iowa City, Iowa 1989
German Academic Exchange Service (DAAD) Summer Language Study Grant Goethe Institute, Prien am Chiemsee, Germany Summer 1986
Publications
Review of Daniel Siemens's The Making of a Nazi Hero: The Murder and Myth of Horst Wessel. German Studies Review, Volume 40, No. 1 (February 2017).
"The Performance of Memory: Diane Samuels' Kindertransport, Tim Blake Nelson's The Grey Zone, and Holocaust Representation" in Trajectories of Memory: Intergenerational Representation of the Holocaust in History and the Arts. Newcastle upon Tyne: Cambridge Scholars Publishing, 2008. Co-author of anthology article with Charlene Gould, Professor of Theatre
Review of Rüdiger Jungbluth's Die Quandts: Ihr leiser Aufstieg zur mächtigsten Wirtschaftsdynastie Deutschlands. H-German Internet Journal February 2005