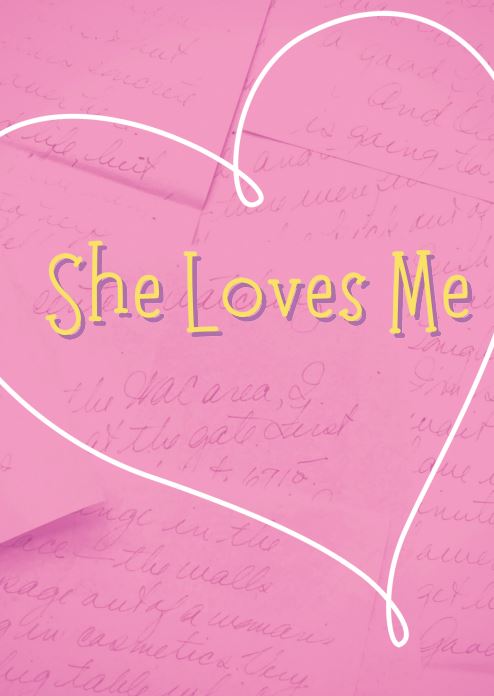 She Loves Me
Book by Joe Masteroff, Music by Jerry Bock, Lyrics by Sheldon Harnick
April 27, 28, & 29, at 7:30 pm
April 30, at 2 pm

Goppert Performing Arts Center
The Bill and Jean Buchanan Stage
Avila University
11901 Wornall Road
Kansas City, MO 64105
Tickets
To reserve tickets, please get in touch with our Box Office via telephone at 816.501.3699 or email at box.office@avila.edu.
Regular Tickets
Regular — $10
Seniors — $8
Non-Avila Students — $8
Avila Students — FREE
Children under 10 receive free entry at all Avila Performing Arts events
Who's Who
Learn more about She Loves Me cast, staff, and crew!
---
Director's Notes
As we relish the long-awaited spring, many thoughts and feelings come to mind; overall, a sense of hope, rebirth, and connection. Love is in the air!
If this is your first exposure to She Loves Me, you are in for a treat. Theatre historians consider it among the best-written book musicals of all time. Its message is as sweet as the title sounds while also filled with wit, life lessons, and every ounce of the range of emotion that comes with loving…and learning to love another.
She Loves Me follows a storyline that has seen many adaptations since its 1930s debut of the original piece, Parfumerie, by Miklos Laszlo. Some of the titles you may know include Shop Around the Corner featuring classic stars Jimmy Stewart and Margaret Sullivan, In the Good Old Summertime with Judy Garland, You've Got Mail starring a young Tom Hanks, as well as the Broadway debut in 1963, 1964 West End debut, a 1993 revival, and most recently, the 2016 Broadway revival, which was also the first Broadway show to be live streamed.
At its core, this show is about love in its many guises—romantic love, secret love, platonic love, unrequited love, betrayed love, and vocational love. It is a show with a gigantic heart and couldn't come at a better time. Much like Europe in the 1930s, we often struggle to find the common ground and love between us. Often it is much easier to focus on our differences rather than dare celebrate our similarities and natural connection in our own humanity. This show, I believe, reminds us love is what truly matters in the end.
The musical's amazing score soars and lifts the heart. Back to time when large orchestras filled historic theatres, the music of She Loves Me has a little of everything to make you laugh, ponder, relate, and enjoy. The world in and beyond Maraczek's shop reminds us of what truly matters as we traverse tricky and tremulous landscapes of life and conflict.
I only hope that you will also feel the lift and joy of this timeless work, reminding us of the value of live musical theatre and the many facets of love in your life. I know it has reminded me how grateful I am to have my partner (and choreographer!) Emily by my side as we go through this amazing roller coaster that life can be.
***A special thank you to the School of Performing Arts, Amity, Matt and John for preserving a program that produces such strong and well-rounded artists. As an alum, it has been nothing but a joy to be back on campus, enveloped in what I love. I look forward to the longevity of the program and the exciting future ahead. ***
—Zeke Bocklage, Director
Cast
Amalia Balash
Ju Young Morimoto
Georg Nowack
Tucker Rushing
Ilona Ritter
Olivia Loren
Steven Kodaly
Richard Bertoldie
Zoltan Maraczek
Paul Joseph
Ladislav Sipos
Day Zamora
Arpad Laszlo
Alec Sade
Headwaiter
Isabella Brauner
Detective Keller
Kyle Hammond
Customer Soloists
Tori Bestor, Jazmin Havens, Taylor Williams
Buser
Lauren Taylor
Carolers/Customers/ Ensemble
Richard Bertoldie, Tori Bestor,
Isabella Brauner, Miriam Gleeson, Jazmin Havens,
Emily Nunez, Lauren Taylor, Taylor Williams
Production Staff
| | |
| --- | --- |
| Director | Zeke Bocklage |
| Musical Director | Amity Bryson |
| Choreographer | Emily Wirkus |
| Scenic Designer | Ta'ja Snipes |
| Properties Designers | Kelsey Harms, Isabella Brauner |
| Costume Designer | Shannon Regnier |
| Lighting Designer | Talia Hinckley |
| Sound Designer | Kaitlyn White |
| Stage Manager | Eleanor Frances |
| Technical Director | John Dylon Rohr |
| Assistant Stage Managers | Gabriella Fast, Teagan Kimble |
| Associate Scenic Designer | Abigail Dearing |
| Assistant Lighting Designer | Abigail Dearing |
| Assistant Sound Designer | Richard Bertoldie |
| Box Office Supervisor | Allie Hornbostel |
Pit Orchestra
| | |
| --- | --- |
| Coach Accompanist and Piano | John Livingston |
| Keyboard | Ransom Ward |
| Violin | Teagan Kimble |
| Viola | Sarah Holman |
| Drums | Brandon Williams |
Production Crew
Scenic Change Artists
Rachel Howard, Ari Hernandez
Painters
Kelsey Harms, Ta'ja Snipes,
Day Zamora, Alex Valdez
Head Carpenter
Day Zamora
Carpenters
Richard Bertoldie, Abigail Dearing,
Kyle Hammond, Ta'ja Snipes, Gaby Dawn,
Alex Valdez, Paris Johnson, Izaak Kimsey
Costumes
Tori Bestor, Miriam Gleeson, Molly Zagorski,
Isabella Brauner, Devin Donohue
Head Electrician
Kyle Hammond
Electricians
Kaitlyn White, Abigail Dearing,
Miriam Gleeson, Tucker Rushing
Light Board Operator
Talia Hinckley
Sound Board Operator
Kaitlyn White
Run Crew Manager
Abigail Dearing
Run Crew
Paris Johnson
Wardrobe Manager
Samantha Reiner
Wardrobe Crew
Gaby Dawn, Molly Zagorski
Production Office
Richard Bertoldie, Gaby Dawn,
Miriam Gleeson, Ari Hernandez, Paris Johnson,
Emily Nunez, Day Zamora
House Manager
Ari Hernandez
Properties
Miriam Gleeson, Gaby Dawn,
Olivia Loren, Ju-Young Morimoto
Performing Arts Faculty
Dean of the College of Arts and Sciences
Dr. Darrin Smith
Chair of Performing Arts
Dr. Amity Bryson
Director of Performance Studies
Matt Schwader Harbor
Director of Design and Technology
John Dylon Rohr
Adjunct Faculty
Zeke Bocklage,
Jim Fletcher,
Hope Goertzen,
John Livingston,
Gene Mackey,
Dr. Aaron Redburn,
Shannon Smith-Regnier
Special Acknowledgments
Advancement Office
Great Western Dining
Gregory's Fine Floral
Maintenance and Housekeeping
Office of Marketing and Communication
Arts at Avila
Friends
Freddy T. Acevedo
Chioma Anyanwu
Ezekiel Bocklage '17
Cara Davis
Mrs. Rose Marie Falco '47
Darby L. Gough
Allison Hornbostel '19
Dr. Ned Kellenberger
John & Paige Livingston
Dr. Marcia, Jean & Rosie Pasqualini
Drs. Aaron & Shannon Redburn
Kristy Ruf & Tim Davison
Shannon Smith-Regnier
Sponsors
Dr. Wendy & John Acker
Carol & Dan Davis
Mrs. Laurie Dearing
Troy & Paige Illum
Paul & Mary LeCluyse
Gene & Sheryl Mackey
Alicia & Randy Murillo
Prof. Benjamin Pascoe, M.F.A.
Blair & Sue Penney
Dr. Regina '95 & Ryan L. Staves '09
Diana & Jim Taylor
Susan & Chris Winters
Mr. & Mrs. Sabin Yanez
Patrons
Dr. Alexandra & Bill Adams
Fr. Keith Branson C.P.P.S.
Dr. James Brauer
Dr. Amity H. Bryson
Mr. William M. '18 & Mrs. Jean M. Buchanan '76, '18
Dr. James and Hanen Burkee
Lauren E. Chiodo-Benmuvhar '04
Carol K. Coburn, Ph.D.
Mr. Bob Crow & Mrs. Belinda R. Troxler '88
Roderick J. & Jo Anne Cyr Foundation
Dr. Angela J. Danley '96
Mrs. Amy & Mr. Jeremy Drouin
Mr. Joseph T. '16 & Mrs. Susan Fahey
Jim Fletcher & Carol Cowles
Dave '76 & Geri Frantze
Leah K. Gensheimer, Ph.D.
Vita Goppert Charitable Trust
Mr. Rick & Dr. Charlene Gould, CSJA
Matt Schwader Harbor
Dr. Andy Jett & Brad Ozias
Dr. Stacy Keith
Drs. Larry & Jan Marsh
Dr. Sue Ellen McCalley
Mr. Nick & Dr. Amy Milakovic
Maggie Mohrfeld and David Davis
Anya, Suzanne & Dr. Jeffrey Myers
Mr. Dennis & Ann M. O'Hare
Kellie Quesada
John Dylon Rohr
Robert M. Scoles '88
Victor E. & Caroline E. Shutte Foundation
Dr. Ronald A. & Mrs. Suzanne Slepitza
Dr. Darrin Smith
Mr. Thomas E. '06 & Mrs. Stephanie M. Sullivan '08
Dr. Jordan Wagge & Mr. Richard Snedegar
Jim & Dr. Sue Willcox
Dave and Ginny Woy
---
Ticket Information
Reserve tickets by calling the Box Office at 816.501.3699 for more information.
Evening performances begin at 7:30 p.m., and Sunday matinee performances begin at 2 p.m.
Regular — $30
Seniors — $28
Regular — $10
Seniors — $8
Non-Avila Students — $8
Avila Students — FREE
Children under 10 receive free entry at all Avila Performing Arts events