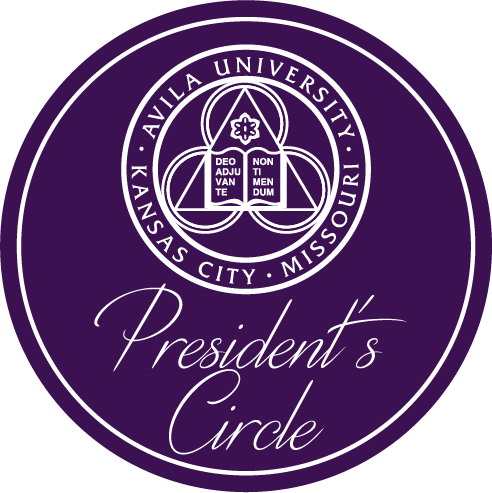 The President's Circle is Avila University's way of paying tribute and expressing gratitude to those individuals who have demonstrated an extraordinary commitment to the university by recognizing donors who commit $1,000 or more during each academic year.
These leadership gifts allow Avila to meet the most important needs of our students.
2022-23 President's Circle Donors
CARONDELET ($50,000 and above)
Sisters of St. Joseph of Carondelet
Mrs. Jean M. '76, '18 & Mr. William M. '18 Buchanan
Mr. Joseph T. '16 & Mrs. Susan Fahey
Forster-Powers Charitable Trust
Mr. Thomas A. & Mrs. Sharon E. McCullough
The McDonnell Foundation, Inc.
Mr. W. Everett Mealman
Catherin V. Merrill Foundation
Jack F. and Glenna Y. Wylie Foundation
ST. TERESA ($25,000 – $49,999)
Anonymous
Geraldine & R.A. Barrows Charitable Foundation
James & Mary Ida Compton Foundation
Country Club Bank
The Dehaemers Family Charitable Trust
Fahey Family Foundation
Mr. Kenneth & Mrs. Marilyn Hager
In Thanksgiving to Blessed Seelos Fund
Newcomer Family Foundation
Dr. Linda K. Whited '72 & Mr. Derek Holland
ST. JOSEPH ($10,000 – $24,999)
Mr. Joseph T. Brennan
Brisley Scholarship Loan Fund
Dr. James and Mrs. Hanen Burkee
Roderick J. and Jo Anne Cyr Foundation
Mr. Kevin R. & Mrs. Constance M. Fahey
Dr. Robert F. Hartsook, JD, EdD
Kathleen Thompson Brown Charitable Fund
Mr. Doug J. Kramer
Mr. Kevin F. & Mrs. Patricia D. '00 Lyon
Dr. Lawrence C. & Mrs. Jan Marsh
Mr. Cameron '88 & Mrs. Ellen Martin
Frank & Margaret G. McGee Charitable Fund
Missouri Colleges Fund, Inc.
Mr. Thomas A. & Mrs. Maria A. '70 Murphy
Mr. Jim & Mrs. Lisa '81 Sackuvich
Dr. Ronald A. & Mrs. Suzanne Slepitza
Society for Analytical Chemists of Pittsburg
Dr. Roberta M. Steinbacher Ph.D.
Mr. John Sullivan & Ms. Paula Stokes
The Research Foundation
Victor E. and Caroline E. Schutte Foundation –
1959 Trust
Mr. Rick & Mrs. Coleen Weller
SR.TAMMANY ($5,000 – $9,999)
Dr. Ibraheem T. Badejo '84
Mr. Thomas & Mrs. Patty Burns
Deloitte Foundation
FineLine HR Consulting
Cowles Fletcher Living Trust
Ms. Lisa A. Gioia '81
The Hogan Family Charitable Fund
Ms. Marianne '58 & Mr. J. P. Hogan
SR. TAMMANY continued…
Johnson & Johnson
Mr. Vercie & Mrs. Lisa Lark
Mrs. Dunrie A. '86 & Mr. James LewisBrain McCann Family Foundation
Mr. Kevin & Mrs. Susan McGreevy
Mrs. Sarah L. Merten '64
Mission Health Communities
The Robert E. Miller Group
UMB Asset Management
O'RIELLY ($2,500 – $4,999)
Baxter International, Inc.
Dr. Phyliss '80, '81, Ph.D. & Mr. Robert Bernstein
Blue Cross and Blue Shield of Kansas City
Ms. Christina Boxx '20
Children's Mercy Hospital
Cigna
Mr. Bill & Mrs. Amy Conway
Mrs. Aggie C. '88 & Mr. Kenneth Cooper
Costco Wholesale Executive Match
Enterprise Holdings, Inc.
FCI Advisors
FORVIS, LLP
Mr. David W. '76 & Mrs. Geri Frantze
Dr. Caryl Goodyear Ph.D., RN '79
Mrs. Linda L. '76 & Mr. David T. Hagerty
Ms. Laura L. Hoffman '93
Mr. August L. & Mrs. Laura L. '85 Huber
Mr. Robert & Mrs. Michelle Hunter
Intrust Bank
S. Mary Frances Johnson, CSJ, Ph.D.
Kansas City Life Insurance
Kinetic Fundraising
Mr. Gregory M. Kratofil, Jr. & Mrs. Kristin Kratofil
Dr. Maureen A. Lillich '81 & Mr. Tony Venegoni
Mr. Larry W. '85 '91 & Mrs. Donna J. Litle
Massman Construction Co.
Meritage Portfolio Management
Mr. Timothy '95 & Mrs. Shelley O'Brien
Phil and Melinda Smith Family Foundation
Mr. Gary D. & Mrs. Therese Smith
St. Luke's Health System
Straub Construction Co., Inc.
Synergis Education
University of Kansas Health System
Mrs. Patricia Waris
Mr. Timothy T. & Mrs. Amy E. Waris
The Well, Charlie Hoopers and Lew's Bar & Grill
Mr. Leon & Mrs. Theresa A. '82 Witt
CIRCLE OF GIVING ($1,000 – $2,499)
909 Properties Inc
Dr. Alexandra & Mr. Bill Adams
Mr. Bobby G. Amos '07
Dr. Skylar & Mr. Joe Bellinger
Mrs. Kitty Brinkman

CIRCLE OF GIVING continued…
Mr. Ted & Mrs. Annie K. Brooks
Burns & McDonnell
Mr. David CampbellMrs. Lauren E. Chiodo-Benmuvhar '04 & Mr. John R. Benmuvhar
Mrs. Marjorie & Mr. Henry S. Conroy
Mrs. Karin L. '68 & Mr. Jack O. Cooper
Mrs. Virginia L. '58 & Dr. Thomas A. Coppinger
Cunningham Family Fund
Mrs. Elizabeth A. Daniels '57
Mr. Vincent & Mrs. Amy Davenport
Mrs. Jenny Dean-Batson '94 & Mr. Albert Batson
Mrs. Mary L. '04 & Mr. Jeffrey C. Dietrich
Mr. William H. Dunn Sr.
Mrs. Mary E. '58 & Mr. James P. Fern
Mrs. Terry L. '79 & Mr. G. Robert Fisher
Mr. Robert N. '79 & Mrs. Bonnie D. French
Dr. Jason B. Gatewood '01
GLMV Architecture
Mr. Lance Goldberg
Dr. Cecelia M. '69 & Dr. Joseph M. Grindel
Mrs. Deborah K. '76 & Mr. Gregory C. '86 Guthrie
Mrs. Patricia S. Habiger '66
Mrs. Linda K. '67 & Mr. Norman Hageman
Mrs. Marie A. '70 & Mr. John N. Hamil
Mr. Larry T. '11, '12 & Mrs. Aleta R. Hayes
Mrs. Dixie & Mr. Dennis Hostetler
Mrs. Carol A. '84 & Mr. James A. Huber
Mrs. LaNora Hughes '62
Mr. Donald & Mrs. Glyna Jackson
Mrs. Kristi Kanarek
Mr. David D. '76 & Mrs. Mary Kerr
Kissick Construction
Mrs. Susan C. Langenheim '61
Mr. Alan W. & Mrs. Jane C. Lankford
Mr. Gregory A. '85 & Mrs. Denise Lever
Mr. Stuart D. '86 & Mrs. Anne Lindeman
Mrs. Karen E. MacLean
Mr. Ted W. '95 & Mrs. Stacy Manvitz
Mr. Sean R. & Mrs. Karen Miller
Mrs. Carol Miller
Multistudio
Mrs. Kathy '70 & Mr. Jack Newman
Mr. Dennis J. & Mrs. Ann M. O'Hare
Ms. Christine M. Ojile '82
Mr. James & Mrs. Janet '70 Otis
Mr. Joseph M. & Mrs. Patricia '64 Owens
Dr. Brenda S. Prince '78, '86
Patricia Reardon Family Charitable Fund
Mr. David & Mrs. Katherine H. '73 Scott
Mrs. Martha D. '66 & Mr. Rodd D. Staker
Mr. John J. & Mrs. Michele L. '81 Stephens
Mrs. Teresa M. '75 & Mr. John Teefey
Mrs. Elaine A. Thomas '59
Mr. Robert Wald
Dr. Thomas E. & Mrs. Marcia E. '73 Walsh
Dr. Angel & Mr. Sabin Yanez
Lifetime Giving Society
Membership in Avila University's Lifetime Giving Society is the university's most prestigious donor recognition. Through the society, we honor the leadership and extraordinary support of those alumni, parents, friends, faculty, and staff who have given generously to Avila over many years – often through their entire lives, through bequests, gifts that support academic programs, our students, our faculty, and the campus itself.
The names of the levels of our Annual Giving Society were assigned to celebrate and honor the rich heritage of the Sisters of St. Joseph of Carondelet, memorializing the pioneers who created the community in our founding city of Le Puy, France, and those that played a significant role in the establishment of the order in the United States.
In 1646, Jesuit priest, Father Jean Pierre Médaille went where Jesuits were not allowed to go, gathering a group of women and helping them become a formal religious congregation. His partner in this endeavor, Bishop de Maupas, knowing that others had been thwarted in a similar plan, approved the apostolic congregation to serve in his diocese—a decision that expressed a counter-cultural appreciation of how women were capable of serving in the church. These first sisters, donned their widows' garb and took to the streets to discern what God was asking of them, to serve their Dear Neighbor.
The sisters continued their mission until the French Revolution caused them to disban. After the revolution ended in 1799, a heroic woman, Jeanne Fontbonne, who had narrowly escaped the guillotine herself, re-founded the Sisters of St. Joseph at Lyon, France. She was known in the congregation as "Mother St. John" Fontbonne, and served as the first Superior General. By 1836 the first group of sisters came to the United States from Lyon, answering a call from Bishop Joseph Rosati to establish a school to teach deaf mute children.
Lifetime Giving Society Donor List coming soon!