The Master's in Business Administration Program at Avila
The Avila University Master of Business Administration (MBA) in Kansas City provides superior graduate education for business managers focused on global principles of integrity, leadership, and success.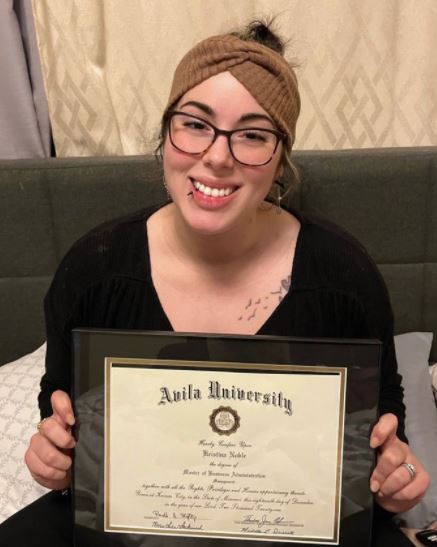 "Thank you Avila University for allowing me to advance my education in a way that was comfortable for me.
I meet some great friends and had some awesome professors that really left a great mark on my life." — Kristina Noble, MBA '21
What to Look for inTop MBA Programs
30 – 33 credit hours – Statistical analysis is waived with an undergraduate-level statistics class.
Streamlined Admission – NO GMAT required! Minimum GPA 2.75 from an accredited institution for admission. 2.5 GPA for provisional admission.
Flexible Online Schedules
Lower Tuition – under $20,000
Convenient 8-week terms so that you can finish your degree in as little as 1 year
Graduate Business Concentrations available in Accounting, Finance, Marketing, Project Management, Health Care Administration, and Strategic Human Resources (certification available from SHRM)
Management Concentration can be personalized by choosing 3 courses (9 credit hours) from any of the above areas
Yellow Ribbon benefits for veterans and their families
MBA Program Courses
Core Courses
| | | |
| --- | --- | --- |
| Course # | Course Name | Credits |
| AC601 | Financial Accounting for Decision Making | 3 |
| BU601 | Behavior, Well-being & Ethics in Organizations | 3 |
| EC604 | Statistical Analysis* | 3 |
| FI630 | Financial Management | 3 |
| EC612 | Applied Microeconomics | 3 |
| MK610 | Marketing Management | 3 |
| MG698 | Global Stategic Management | 3 |
| BU699 | MBA Capstone | 3 |
| Concentration | | 9 |
*Statistical analysis is waived with the transfer of undergraduate-level statistics course credits.
Graduate Concentrations
Graduate Business Certificates
Management (Make it your own. See your graduate advisor for details)
Add credentials to your current career or your previous MBA; complete your certificate in as little as 6 months.
Why is This One of the Top MBA Programs in Kansas City?
Avila's MBA students learn from faculty with successful business backgrounds and build experience in real-world business projects. Small class sizes provide more access to faculty, allowing you to build relationships with professors. Learning outcomes in Avila's MBA program are consistently above national standards.
Flexible Sessions for Busy Professionals
At Avila, you can pursue your degree while you keep your career moving ahead. Beginning Fall of 2020, Avila's MBA schedule will consist of five 8-week sessions each calendar year. This flexible format allows you to take more classes in a shorter amount of time and graduate faster by taking two classes per session. You can enroll part-time or full-time, depending on your schedule.
Admission
If you have a bachelor's degree from an accredited school, you can apply to Avila's MBA program.
Avila University MBA program outcomes and assessments results