The Society of Human Resource Management (SHRM) re-certified two Avila programs through 2025 via their Academic Alignment Program on November 18, recognizing the University's strength in human resources education.
The SHRM's Academic Alignment Program identifies academic programs where the curriculum meets the organization's recommended standard for degree-based coursework. The two Avila degree programs which were recognized–Bachelor of Arts in Human Resources and Master of Science in Organizational Development (MSOD) with a concentration in Strategic Human Resources–initially received the Academic Alignment certification in 2016.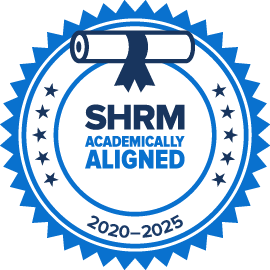 "The SHRM Academic Alignment Program has been an excellent resource for us to align our human resource education curriculum to incorporate evolving practices and issues in the workplace, allowing us to prepare students in both our undergraduate and graduate courses to have the most relevant skills when they graduate," said Andy Jett, Dean of the College of Professional Schools. "Our highly accomplished faculty, with additional guidance provided by SHRM, will continue to prepare students to begin and excel in human resources careers."

Offered through the Avila Institute for Professional Studies, the undergraduate and graduate degree programs each are among the top of their kind in the Kansas City region. The Human Resources B.A. program gives students the foundational skills and knowledge they'll need to progress their career, all on a online, eight-week class schedule to give students maximum flexibility. The M.S.O.D. with a Strategic HR concentration offers the same convenience, but gives students advanced training to prepare graduates for the PHR and SPHR exams for certification.

"Well-trained human resource officers help large and small businesses thrive, and Avila is proud to offer degree programs for students who want to pursue those careers and make a difference," Jett said. "By continuing to participate in the SHRM Academic Alignment Program, we ensure that our graduates will continue to be assets to business across the region."

As a member of the Academic Alignment Program, Avila students in either program can apply to take the SHRM Certified Professional (SHRM-CP) credential exam. For more information about these and other programs at Avila, please contact our admissions team to learn more.