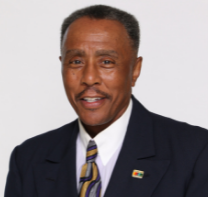 Dr. J. Anthony Snorgrass is a recognized and awarded professional in the fields of advertising, management, administration, and brand development. He is also a credentialed photographer and mixed-media artist. He received his Ph.D. from Walden University's School of Public Policy and Administration focusing on emergent media communications in public policy environments and non-profit management. He also holds two Master's degrees from the Ohio State University and a B.A. from the University of Kansas. He is certified as an Economic Development Specialist (EDS) by the National Development Council and has national certification from the American Institute of Certified Planners (AICP). Snorgrass specializes in new media, augmented reality applications, accessibility, universal design strategies, brand cultivation, and diversity marketing.
As an educator, Snorgrass describes his teaching style as intellectually demanding, introspective and visionary. He expects students to develop an appreciation and understanding of both the art and science of advertising, media, technology and communication mediums then to become confident in this knowledge and its applications in the real world. He teaches with a "bottom-line" orientation and a genuine sensitivity for the holistic nurturing of his students. His teaching philosophy is geared to prepare students not just to react to the world, but prepare them to change the environment and society in which they exist through forces of their own.
Dr. Snorgrass is also a long-term standing member of the American Academy of Advertising where he has served on the prestigious Industry Relations Committee and as a Conference Paper Reviewer; currently serves on the Advisory Panel for Ad Age; serves on the national Ad Meter Super Bowl Advertising Rating Team, and is a member of the Media Ecology Association. Dr. Snorgrass has also regularly mentored students to win numerous Regional, State, National and International communication awards and recognitions.
Dr. Snorgrass is a change driven, rule-challenging creative thinker, deeply invested in using digital technology and the design process to elevate community engagement, institutional innovation and participatory problem solving. Dr. Snorgrass also serves as the Director of the Center for Digital Advocacy.
Links:
www.linkedin.com/in/janthonysnorgrass
www.jasa-media360.com
http://advertologist.blogspot.com
http://zzzzroots.blogspot.com