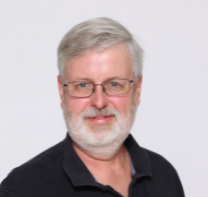 My current research interest involves the bacterium Salmonella enterica and its ability to form biofilms on living and nonliving surfaces. My students have been isolating different strains, identifying them, and quantifying levels of biofilm formation in the presence of a variety of antibiotics.
I primarily teach BI 250 General Microbiology, which emphasizes microbes that cause infectious diseases. My expertise in this area is also put to use in the interdisciplinary course Plagues, which I co-teach with Dr. Jeffrey Myers (history), and Global Health Concerns, which I co-teach with Martha Blackman from nursing. It's a subject that's constantly changing, which makes it exciting to teach.
My "extra-curricular" activities include memberships in the American Society for Microbiology and the Association of College and University Biology Educators (ACUBE). For community service activities, I am part of a team of advisors with the National Association of Advisors for Health Professions that help students with their journey to enter various health professions. I also judge the Greater Kansas City Area Science Fair each year.
In my extra time, my hobbies include viewing movies (classic, foreign, current), reading (fiction and nonfiction), and dabbling in piano.
Started at Avila
1993
Research Interests
Interested in the history of infectious diseases, and currently researching how factors affecting Salmonella enterica's ability to form biofilms
Hobbies
I enjoy reading, classic movies, and piano.
General Biology Cells and Genes, Microbiology, Genetics
Ph.D. in Biology from The Pennsylvania State University
B.A. in Biology from Oberlin College
Missouri Governor's Award for Teaching 1999, Avila Professor of the Year 1999, Tri-Beta (Biology Honor Society) Yokely Service Award 2014, Avila Medal of Honor 2012