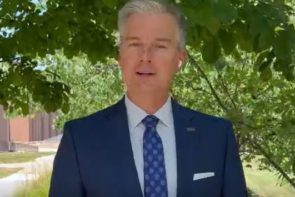 Jim Burkee, Ph.D. leads Avila University as its 15th President. "I am honored and energized to lead Avila University at this pivotal time in its 106-year history," Burkee said. "The best presidents generate trust and respect, working well with others, considering their needs, and focusing on justice and fairness while driving toward the University's strategic goals. They think big and work hard to rally the community around audacious goals."
A first-generation college student, Burkee grew up in a working-class Wisconsin family and earned his college degree studying business and history at Concordia University in Mequon, Wisconsin. He received a fellowship at Northwestern University in Evanston, Illinois, which he describes as "one of the greatest gifts of my life" to study American history.
With 25 years in higher education, Burkee has held most academic leadership positions and senior-level administrative roles responsible for strategic planning, business and academic partnership development, and enrollment. In 2011, Burkee briefly left academia to partner in managing his family's multi-million dollar business as managing partner and chief operating officer. He returned to higher education in 2013 after successfully leading the company.
In 2019, Burkee joined the College of Mount Saint Vincent, the Bronx, New York, to work with the president, board of trustee members, and senior staff to expand the College's reach into new, non-traditional areas. These efforts resulted in rapid growth from about 1,700 students to over 3,000 this academic year, adding off-campus, online, and graduate programs.
Before joining the College of Mount Saint Vincent, Burkee served as executive vice president and executive dean at Concordia College New York, Bronxville. Burkee's leadership oversight included academics, enrollment, academic program development, and strategic business planning and development. Reaching out across campus, under Burkee's leadership, the College nearly doubled in size, adding about 1,000 continuing, online, international, and graduate learners. This growth came through securing domestic and international partnerships and generated over $20 million in revenue for the College. While serving in these roles, Dr. Burkee retained his rank as Professor of History.
"A strong university starts with strong programs and partnerships that diversify its student populations," said Burkee. "We must pursue diversified revenue streams, practice data-driven decision-making, strive for best practices across the institution, and foster a culture of constant innovation."
Respected for his collaborative style, Burkee's unique ability to bridge business partnerships, drive an innovative and strategic academic agenda, and build buy-in from community members.
Dr. Burkee on his first day as Avila's president
B.A. history -- Concordia University
B.A. Business and Marketing -- Concordia University
Teacher Colloquy -- Concordia College, New York
M.A. and Ph.D. in History -- Northwestern University