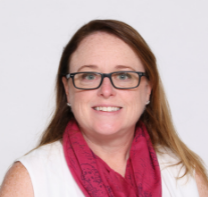 I am a wife, mother of three kids, nurse, and educator. I have worked every level of nurse from a Licensed Practical Nurse all the way to a Masters prepared nurse. I began nursing in 2003 specializing in medical/surgical nursing in the areas of trauma and float pool. I have also practiced as a nurse care coordinator and a float pool nurse. I came to Avila in 2016 to share my passion for nursing and shape students into high-quality, safe nurses. I teach at the Junior and Senior levels in the classroom, laboratory, and clinical settings. I truly enjoy getting to know my students and seeing their faces when they grasp difficult concepts. In my spare time, I enjoy spending time with family, going to the lake, traveling, and sewing.
---
Megan Ashcraft MSN, RN, CNE began teaching at Avila in Fall 2016. She teaches at both the Junior and Senior levels. Megan has been a nurse since 2003 specializing in medical/surgical nursing, trauma nursing, and case management. In May 2016, Megan graduated from the University of Missouri at Kansas City with a Master's Degree in Nursing, specializing in Nursing Education.
Megan has lived in Kansas City her entire life. She is a wife, a mom, and a pet owner. Her passion is educating patients and sharing her love of nursing with students. She loves to spend time with her family, travel, and do arts and crafts.
Junior and Senior Nursing
Masters Degree in Nursing-University of Missouri-Kansas City,
Bachelor's Degree in Nursing-University of Kansas,
Associates Degree in Nursing-Neosho County Community College
2021 Teaching Excellence Award Recipient from The Research Foundation of Kansas City
2019 Poster Presentation: ""EKG Analysis Lab"" at the "Iggy's Next Generation National Council Licensure Examination (NCLEX) Camp" in Dallas, Texas