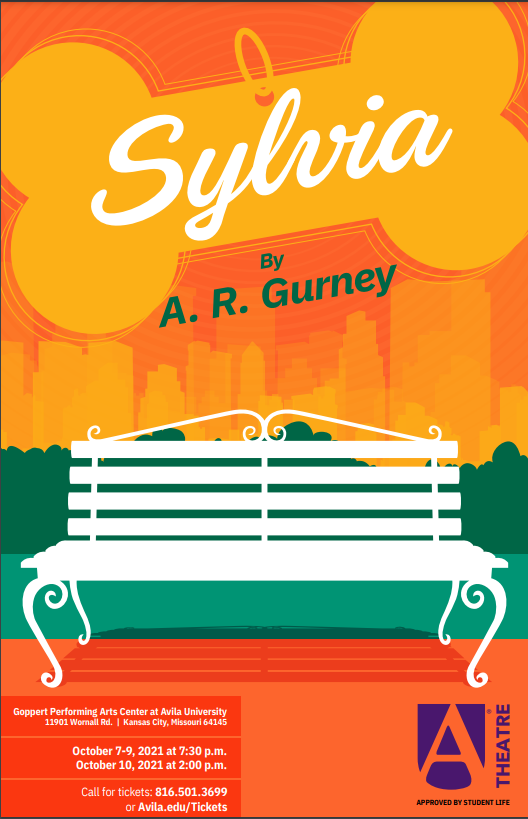 Sylvia
By A.R. Gurney
October 7, 8, 9 at 7:30 pm
October 10 at 2 pm
The Bill & Jean Buchanan Stage
Goppert Performing Arts Center
Avila University
11901 Wornall Road
Kansas City, MO 64105
Face masks and social distancing are required.
Tickets
To reserve tickets, please contact our Box Office via telephone at 816.501.3699 or email at box.office@avila.edu.
Dinner Theatre $30
*Available for October 8-9 productions of Sylvia
Regular Tickets
Regular — $10
Seniors — $8
Non-Avila Students — $8
Avila Students — FREE
Children under 10 receive free entry at all Avila Performing Arts events
Who's Who
Learn more about Sylvia's cast, staff, and crew!
---
Cast
Sylvia
Understudy
McKenna Sanford
Adrianna Wendel
Greg
Understudy
Christian Lucas
Tyler Lundquist
Kate
Understudy
Ariana Givens
Gaby Koch
Tom/Phyllis/Leslie
Understudy
Richard Bertoldie
Tucker Rushing
Production Staff
| | |
| --- | --- |
| Director | Jan Rogge |
| Scenic/Digital Media Designer | |
| Costume Designer | Shannon Smith-Regnier |
| Lighting Designer | Tinna Rivera |
| Sound Designer | Davin Zamora |
| Properties Designer | Isabella Brauner |
| Stage Manager | Tinna Rivera |
| Technical Director | |
| Assistant Stage Managers | Ellie Peoples, Gabriella Fast, Stephanie Hatesohl |
| Assistant Scenic Designers | Tyler Lundquist, Isabella Brauner |
| Assistant Costume Designers | Samantha Reiner, Kelsey Harms |
| Assistant Lighting Designers | Talia Hinckley, Kaitlyn White |
| Assistant Sound Designer | Richard Bertoldie |
| Box Office Supervisor | Alexandra Pilley |
Production Crew
| | |
| --- | --- |
| Scenic Change Artist | Adrianna Wendel |
| Paint Crew | Rachel Howard, Ta'ha Snipes, Lynn Winkler, Ariana Givens |
| Props Crew | Izaak Kimsey, Gaby Koch, Danielle Adcock, McKenna Sanford |
| Master Carpenter | Tyler Lundquist |
| Carpenters | Christian Lucas, Tyler Rushing, Darwyn Thompson |
| Costumes | Hannah Zimmerman, Abby Dearing |
| Electricians | Charlie Parsons, Talisha Williams |
| Light Board Operator | Kaitlyn White |
| Spotlight Operators | Tucker Rushing, Charlie Parsons |
| Sound Board Operator | Davin Zamora |
| Sound Supervisor | Hannah Zimmerman |
| Run Crew | Gaby Koch, Talisha Williams, Darwyn Thompson |
| Wardrobe Crew | Samantha Reiner, Abby Dearing, Talisha Williams |
| Production Office | Matt Schwader Harbor, Adrianna Wendel, Tinna Rivera |
| House Manager | Molly Zagorski |
| Voice Coaches | Dr. Amity Bryson, Kristy Ruf, Dr. Aaron Redburn |
| Box Office | Ariana Hernandez, Daniel Hicks |
Performing Arts Faculty
Dean of the College of Liberal Arts and Social Sciences
Dr. Charlene Gould
Chair of Performing Arts
Dr. Amity Bryson
Director of Performance Studies
Matt Schwader Harbor
Director of Design and Technology
Artist in Residence
Dr. Michalis Koutsoupides
Adjunct Faculty
Chioma Anyanwu
Jim Fletcher
Hope Goertzen
Nicole Green
John Livingston
Gene Mackey
Andy Perkins
Dr. Aaron Redburn
Kristina Ruf
Shannon Smith-Regnier
Dana Woolard-Hughlett
Alexandra Pilley
Special Acknowledgments
Advancement Office
Belinda Troxler and Bob Crow
Maintenance and Housekeeping
Great Western Dining
Office of Marketing and Communication
Brad Hensley
Canine Ambassador, "Buster" Rogge
---
Director's Notes
When I was offered to direct Sylvia at Avila University, I was thrilled to have a chance to work on an A.R. Gurney play. I had the good fortune of working with him at The Old Globe Theatre in San Diego. I understudied the role of the daughter in his 4-character world premiere play The Cocktail Hour. He was an absolute joy to watch him work and continually rewrite and develop the script.
SYLVIA, written in 1995, is a rather unusual comedy because the title role is a dog that is played by a human. His other plays include Love Letters, The Dining Room, and The Cocktail Hour. A.R Gurney, who passed away in 2017, admitted that the play was rejected by many producers because "it equated a dog with a woman, and to ask a woman to play a dog was not just misogynist, but blatantly sexist." Mr. Gurney did not agree, and he once noted that his play has a "timely message of the need to connect in an increasingly alien and impersonal world. There is a need to connect, not only to a dog, but to other people through the dog." He wrote the title role for Sarah Jessica Parker who also originated the role on Broadway.
Working on this play, through A.R. Gurney's perspective, I find this play utterly charming. We both share a deep love for our dog companions. He touches on the challenges of a long-term marriage between Greg and Kate that gets unexpectedly interrupted by a stray dog that he brings home. Sylvia, the dog, represents to Greg a longing for a deeper connection to his wife, his world, and his life. All of a sudden, Kate must fight for her marriage and discover what is most important in her life.
My dog, Buster, was invited to rehearsals as a muse for the cast and he loved every minute of it. And I think everybody felt a little happier seeing Buster in the room.
As Greg proudly pronounces, "We should all have dogs. It should be put in the constitution".
—Jan Rogge, Director
Arts at Avila
Friends
Heather Noble
Marcia, Jean & Rosie Pasqualini
Pattie & Kevin Robertson
Regina Staves, Ph.D. & Ryan Staves
Scott & Diann White
Sponsors
Wendy & John Acker
Amy Bucher
Darby Gough
Paul & Mary LeCluyse
Drs. Larry & Jan Marsh
Sue Ellen McCalley
Mr. Nick & Dr. Amy Milakovic
Dr. Cathy Miller
David & Maggie Mohrfeld Davis
Alicia & Randy Murillo
Benjamin Pascoe
Blair & Sue Penney
Matt Schwader Harbor
Diana & Jim Taylor
Nancy J. White
Susan & Chris Winters
Mr. & Mrs. Sabin Yanez
Patrons
Anonymous gift in honor of the Sisters of St. Joseph of Carondelet
Walter Brandes
Dr. Amity H. Bryson
Bill & Jean Buchanan
Lauren E. Chiodo-Benmuvhar
Constance M. Cooper Charitable Foundation
Mr. Bob Crow &
Mrs. Belinda R. Troxler
Roderick J. & Jo Anne Cyr Foundation
Joseph & Susan Fahey
Dave & Geri Frantze
Vita Goppert Charitable Trust
Richard & Charlene Gould
Dr. Andy Jett & Brad Ozias
Drs. Larry & Jan Marsh
Anya, Suzanne & Dr. Jeffrey Myers
Robert M. Scoles 88'
Victor E. & Caroline E. Shutte Foundation
Dr. Ronald A. & Mrs. Suzanne Slepitza
Dr. Jordan Wagge
Jim & Sue Willcox
David & Ginny Woy
---
Ticket Information
Reserve tickets by calling the Box Office at 816.501.3699 for more information.
Evening performances begin at 7:30 p.m., and Sunday matinee performances begin at 2 p.m.
Regular — $30
Seniors — $28
$30
*Available for October 8-9 productions of Sylvia
Regular — $10
Seniors — $8
Non-Avila Students — $8
Avila Students — FREE
Children under 10 receive free entry at all Avila Performing Arts events