Time for a Change – Become a
K-12 Teacher.
Avila offers a graduate-level teacher certification program that bridges into the Master of Arts in Education program. This option is for those who may be considering a career change or received a bachelor's degree in an area outside of education.
Students experience the real classroom right from the beginning of the program. Our teacher certification courses provide a multitude of opportunities for candidates to work with mentors in area classrooms. Students who successfully complete our teacher preparation programs go on to teach in public or accredited private schools in grades K-12.
Student Teach or Intern within one year!
Teacher Certification Program Areas
| | | |
| --- | --- | --- |
| Elementary 1-6 | Language Arts 5-9 | Biology 9-12 |
| Art K-12 | Mathematics 5-9 | Business 9-12 |
| Music: Instrumental K-12 | Science 5-9 | Chemistry 9-12 |
| Music: Vocal K-12 | Social Studies 5-9 | English 9-12 |
| Physical Education K-12 | | Marketing 9-12 |
| Special Education K-12 | | Social Studies 9-12 |
| | | Speech & Theater 9-12 |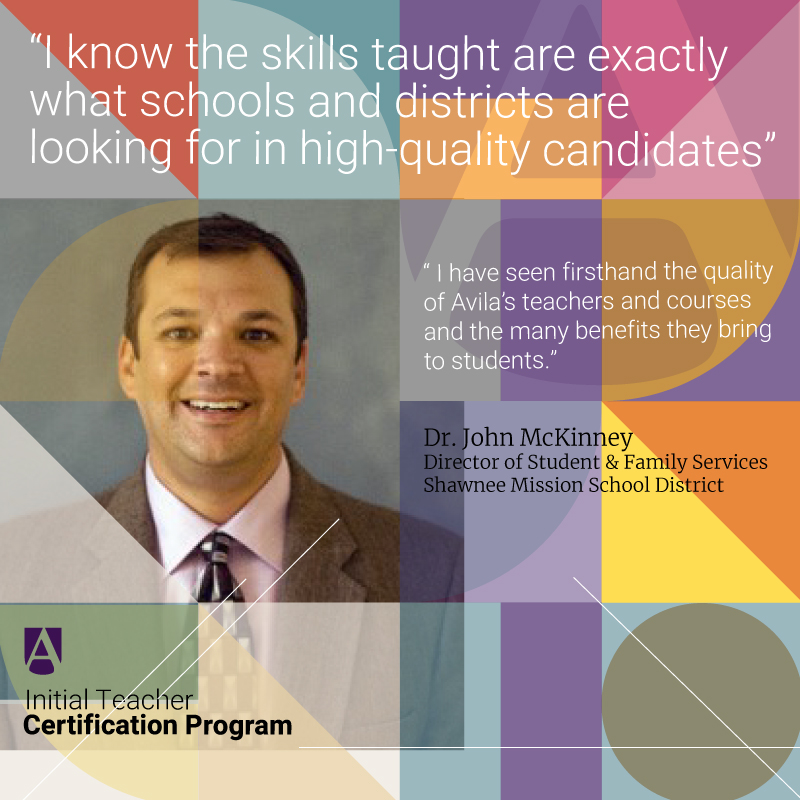 "I have seen firsthand the quality of Avila's teachers and courses and the many benefits they bring to students."
— Dr. John McKinney
Director of Student & Family Services
Shawnee Mission School District
What is Alternative Certification?
Alternative Certification means that students are not required to complete additional "content" courses related to their chosen certification area once admitted to the program. Students only take the Professional Education courses required by the state. The Alternative Certification route only applies to the certification areas that have specific content, or subject, areas. This includes all certification areas at the Middle School and Secondary levels, as well as all K-12 certifications in a specific content area. It does not apply to the Elementary and Special Education certification options that Avila offers.
Through Avila University's Alternative Teacher Certification option, your bachelor's degree in any content area makes you eligible to return to college to take courses and teach simultaneously. It is preferred that you have earned a closely related degree to your chosen certification area, but it is not required. Students without a closely-related degree may be admitted to the program, but will be required to pass the Missouri Content Assessment prior to Advancement to Teacher Candidacy, which typically comes at the end of the first semester in the program.
Students admitted to Avila's Alternative Certification program are eligible to work under a two-year, provisional certification while completing coursework towards earning their initial certification. When the required coursework is completed and the designated Missouri Content Assessment test is passed, the college recommends the student to the state and the individual receives an initial certificate.
Kansas Licensure
Once you've received your initial teacher certification to teach in Missouri, Kansas offers the ability to earn a Kansas teaching certification without much difficulty. You will need to be able to provide proof (transcripts) of the completion of an approved teacher preparation program, a current state-issued teaching certification, a bachelor's degree, successful completion of competency examinations, fingerprint background check, and satisfy "recency" stipulations.