Loving sports and video games didn't differentiate Avila University senior Chijioke Eguzo from many of his friends growing up in the suburbs of Austin, Texas. A talented offensive lineman in the football-mad state, he nurtured a love of tinkering and new technologies from an early age after countless hours playing games against his friends. He had already targeted computer science as a potential major as early as middle school, but a week-long job-shadowing experience at Dell Computers in high school crystallized that interest.
"Even in middle school, I had a pretty good idea that I wanted to do computer science," said Eguzo, known on campus as Chi Chi. "Most of my friends were either going the business or healthcare route, but that wasn't something that I was really interested in. I kept coming back to computer science as something that interested me."
Nearing graduation, he knew he wanted to continue playing football at the collegiate level partly because of his love of the sport, but also because it kept him honest in the classroom.
"When I was in high school, football helped me focus on my academics because if you don't keep your grades up, you're not going to play," he said. "Having that motivation to play pushed me academically."
After creating a profile on a national football recruiting site, Eguzo began a conversation with Avila and liked what he found. Compared to his other options, the University provided "the best bang for (his) buck," with its robust athletics programs and strong academic offerings tipping the balance.
"When I visited Avila and Kansas City for the first time, I could definitely see myself spending four years on the campus," he said. "I had been on multiple college campuses, both big and small. But when I came here, I had a great day. That combined with the fact Avila had exactly what I wanted made me want to go here."
His first year proved challenging. While he earned a starting spot on the gridiron, the squad finished the season with a winless 0-11 record. Meanwhile in the classroom, he realized how much he had to learn about the intricacies of computer science.
"When I came to Avila, I knew what a few of the coding languages were but I didn't know them inside and out," he said. "It was in CS 120 (Introduction to Computer Science) that I learned (the coding language) Python step-by-step, line-by-line, and at some point it just clicked with me. As I learned more from my professors, I started to figure out how to customize things because I knew the languages well enough to start improvising."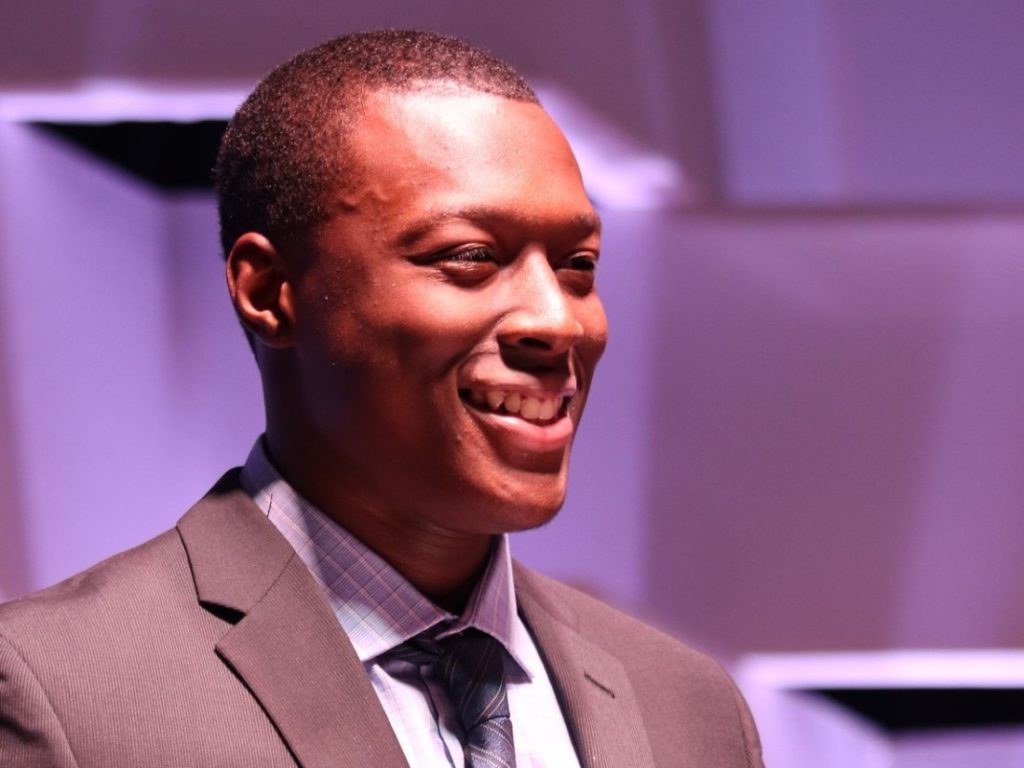 "(At Avila), if you show your professors that you want to learn, they will give you their time to help you work through your challenges."

Chijioke Eguzo '20
Things began to look up on the football field as well. The team improved each of the following two years, culminating in a 7-3 record his junior year. The Kansas Collegiate Athletic Conference recognized Eguzo's impact on the team, naming him Second Team All-KCAC his junior year before a unanimous selection to the First Team his senior year.
"Chi Chi is one of the hardest working guys I have had the privilege of coaching," said Marc Benavidez, head Avila football coach. "He worked to perfect his craft on the field, and his teammates fed off his work ethic. His belief in the program, positive attitude and effort were all key for our team to move from 0-11 his freshman year, to a combined 14-6 his last two years."
Hard work on and off the field, plus utilizing Avila's academic resources, made the difference, according to Eguzo.
"At Avila, if you don't get it and you really need help, your teachers care about you," he said. "You need to worry about your grades, you need to reach out to them and you need to show initiative. They're not going to care as much if you don't care about yourself. But if you show that you want to learn, they will give you their time to help you work through your challenges."
As a First-Year Mentor this past fall, he felt compelled to pass along some hard-earned lessons.
"I had students tell me 'Oh man, I've got three quizzes on Wednesday,'" he said. "I had to tell them they better get used to it because they're probably going to have a couple more by the end of the week. I made sure to tell them about resources like the online tutoring because I use that all the time to help keep up with my studies."
Eguzo also took advantage of Avila's deep connections in Kansas City to earn a paid internship at MRIGlobal as an assistant software engineer for the health technology company located near the Country Club Plaza. Alumna Jennifer Lindsey, M.S. '10, '15, an HR Generalist at MRIGlobal, heard about Eguzo's professional interests and connected him with the firm.
"Chijioke showed his eagerness to develop professionally when he applied to the internship position with MRIGlobal," Lindsey said. "His personality and general disposition made him standout among the other candidates and I shared along his resume and application to the hiring manager without reservation. He's been a great addition, well-liked in our organization. He's always willing to lend a hand with a smile."
After graduation, Eguzo hopes to continue his tenure with MRIGlobal while continuing to grow his skills and knowledge to address challenges new technologies invariably create.
"Now I'm interested in artificial intelligence, data analytics and I'm starting to get into cybersecurity," he said. "I'm intrigued with the ways that we go about protecting data. Especially, where is that data coming from and how is it being used? Because if that data is not being used appropriately, it is worthless."