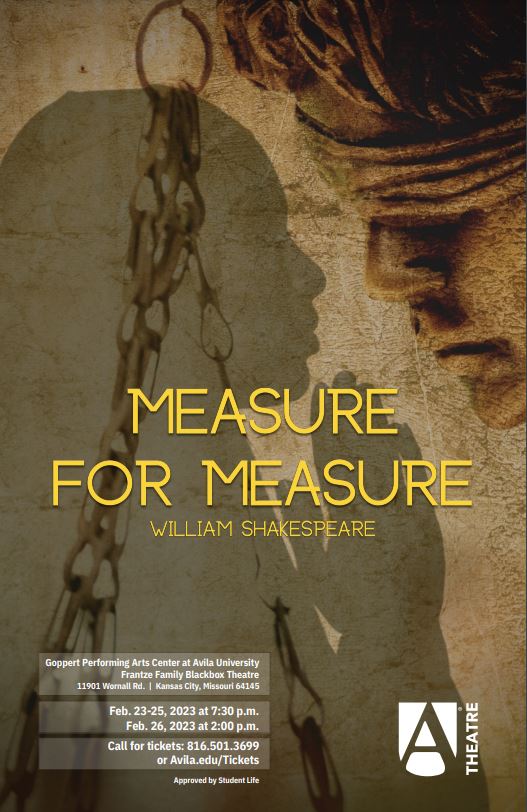 Measure for Measure
By William Shakespeare
February 23, 24, & 25, 2023, at 7:30 pm
February 26, 2023, at 2 pm

Goppert Performing Arts Center
Frantze Family Blackbox Theatre
Avila University
11901 Wornall Road
Kansas City, MO 64105
Tickets
To reserve tickets, please get in touch with our Box Office via telephone at 816.501.3699 or email at box.office@avila.edu.
Regular Tickets
Regular — $10
Seniors — $8
Non-Avila Students — $8
Avila Students — FREE
Children under 10 receive free entry at all Avila Performing Arts events
Who's Who
Learn more about Measure for Measure cast, staff, and crew!
---
Director's Notes
Measure for Measure explores themes of morality, justice, and the abuse of power, metaphors for the shifts in the political climate we see happen throughout time. In the early 1600s, when this play was written, the Puritans in England began advocating for a simpler, godlier society based on their strict moral code.
While preparing for our production, I was reminded of the conservative backlash in the U.S. during the 1980s. This movement attempted to impose moral codes and limit reproductive rights in response to the perceived excesses of the 1970s. The punk scene in the '80s was largely a countercultural response to the conservative political and social climate of the era. In their music and fashion, punk musicians and fans embraced a Do-It-Yourself ethos, rejecting the polished and commercialized pop culture of the time.
Just as a pendulum, political climates swing between periods of more liberal and permissive attitudes, followed by periods of more conservative and moralistic attitudes. In the play Measure for Measure and the United States during the 1980s, the pendulum of political and social values swings from one extreme to the other. Shakespeare's play remains as relevant today as ever, while discussions surrounding morality, gender roles, justice, and government regulation continue to shape our society.
I am so proud of our student theatre-makers, who have brought this story to life, exploring these important themes and providing a powerful tool for reflection and understanding as well as telling a complex and powerful story.
—Matt Schwader Harbor, Director
Cast
| | |
| --- | --- |
| Duke Vincentio | Richard Bertoldie |
| Lady Escalus | Olivia Loren |
| Angelo | Tyler Lindquist |
| Froth | Izaak Kimsey |
| Lucio | Day Zamora |
| Mistress Overdone | Taylor Williams |
| Pompey/Friar Peter | Kyle Hammond |
| Provost | Isabella Brauner |
| Claudio | Tucker Rushing |
| Juliet | Devin Donohue |
| Officer/Punk | Lauren Taylor |
| Friar Thomas/Punk/Attendant | Tori Bestor |
| Isabella | Rachel Howard |
| Fransica/Abhorson/Punk/Officer | Gabby Dawn |
| Elbow/Barnardine | Gavin Merrill |
| Marianna/Punk | Jazmin Havens |
Production Staff
| | |
| --- | --- |
| Director | Matt Schwader Harbor |
| Assistant Director | Ari Hernadez |
| Scenic Designer | John Dylon Rohr |
| Properties Designer | Olivia Loren |
| Costume Designer | Shannon Reigner |
| Lighting Designer | Kaitlyn White |
| Sound Designer | Ari Hernadez |
| Stage Manager | Talia Hinckley |
| Technical Director | John Dylon Rohr |
| Assistant Stage Manager | Gabrielle Fast |
| Assistant Scenic Designer | Kelsey Harms |
| Assistant Properties Designer | Lauren Taylor |
| Assistant Costume Designer | Samantha Reiner |
| Assistant Lighting Designer | Abigail Dearing |
| Front of House Supervisor | Allie Hornbostel |
Production Crew
| | |
| --- | --- |
| Scenic Change Artists | Rachel Howard, Ari Hernandez |
| Painters | Kelsey Harms, Gabriella Fast, Ta'ja Snipes, Day Zamora, Alex Valdez |
| Head Carpenter | Day Zamora |
| Carpenters | Kelsey Harms, Kyle Hammond, Ta'ja Snipes, Gaby Dawn, Eleanor Francis, Alex Valdez |
| Costumes | Tori Bestor, Miriam Gleeson, Molly Zagorski, Isabella Brauner, Devin Donohue, Heidi Jane |
| Head Electrician | Eleanor Frances |
| Electricians | Kaitlyn White, Abigail Dearing, Miriam Gleeson, Tucker Rushing, Stage Lighting Class |
| Light Board Operator | Miriam Gleeson |
| Sound Board Operator | Abigail Dearing |
| Run Crew Manager | Ta'ja Snipes |
| Run Crew | Paris Johnson, Cast |
| Wardrobe Manager | Samantha Reiner |
| Wardrobe Crew | Gaby Dawn, Molly Zagorski |
| Production Office | Richard Bertoldie, Miriam Gleeson, Ari Hernandez, Paris Johnson, Gaby Dawn, Emily Nunez, Day Zamora |
| House Manager | Ari Hernandez |
| Front of House | Ta'ja Snipes, Paris Johnson, Tori Bestor |
Performing Arts Faculty
Dean of the College of Arts and Sciences
Dr. Darrin Smith
Chair of Performing Arts
Dr. Amity Bryson
Director of Performance Studies
Matt Schwader Harbor
Director of Design and Technology
John Dylon Rohr
Adjunct Faculty
Jim Fletcher
Hope Goertzen
John Livingston
Gene Mackey
Dr. Aaron Redburn
Shannon Smith-Regnier
Special Acknowledgments
Advancement Office
Brandon Williams
Great Western Dining
Leslie Dorrough Smith, Ph.D., Associate Professor of Religious Studies and Chair of the Women's and Gender Studies Department
Maintenance and Housekeeping
Office of Marketing and Communication
Manon Haliburton Photography, Student Headshots
Brian Paulette Photography, Production Photos
---
Arts at Avila
Friends
Freddy T. Acevedo
Chioma Anyanwu
Ezekiel Bocklage '17
Cara Davis
Mrs. Rose Marie Falco '47
Darby L. Gough
Allison Hornbostel '19
Dr. Ned Kellenberger
John & Paige Livingston
Dr. Marcia, Jean & Rosie Pasqualini
Drs. Aaron & Shannon Redburn
Kristy Ruf & Tim Davison
Shannon Smith-Regnier
Sponsors
Dr. Wendy & John Acker
Carol & Dan Davis
Mrs. Laurie Dearing
Troy & Paige Illum
Paul & Mary LeCluyse
Gene & Sheryl Mackey
Alicia & Randy Murillo
Prof. Benjamin Pascoe, M.F.A.
Blair & Sue Penney
Dr. Regina '95 & Ryan L. Staves '09
Diana & Jim Taylor
Susan & Chris Winters
Mr. & Mrs. Sabin Yanez
Patrons
Dr. Alexandra & Bill Adams
Fr. Keith Branson C.P.P.S.
Dr. James Brauer
Dr. Amity H. Bryson
Mr. William M. '18 & Mrs. Jean M. Buchanan '76, '18
Dr. James and Hanen Burkee
Lauren E. Chiodo-Benmuvhar '04
Carol K. Coburn, Ph.D.
Mr. Bob Crow & Mrs. Belinda R. Troxler '88
Roderick J. & Jo Anne Cyr Foundation
Dr. Angela J. Danley '96
Mrs. Amy & Mr. Jeremy Drouin
Mr. Joseph T. '16 & Mrs. Susan Fahey
Jim Fletcher & Carol Cowles
Dave '76 & Geri Frantze
Leah K. Gensheimer, Ph.D.
Vita Goppert Charitable Trust
Mr. Rick & Dr. Charlene Gould, CSJA
Matt Schwader Harbor
Dr. Andy Jett & Brad Ozias
Dr. Stacy Keith
Drs. Larry & Jan Marsh
Dr. Sue Ellen McCalley
Mr. Nick & Dr. Amy Milakovic
Maggie Mohrfeld and David Davis
Anya, Suzanne & Dr. Jeffrey Myers
Mr. Dennis & Ann M. O'Hare
Kellie Quesada
John Dylon Rohr
Robert M. Scoles '88
Victor E. & Caroline E. Shutte Foundation
Dr. Ronald A. & Mrs. Suzanne Slepitza
Dr. Darrin Smith
Mr. Thomas E. '06 & Mrs. Stephanie M. Sullivan '08
Dr. Jordan Wagge & Mr. Richard Snedegar
Jim & Dr. Sue Willcox
Dave and Ginny Woy
---
Ticket Information
Reserve tickets by calling the Box Office at 816.501.3699 for more information.
Evening performances begin at 7:30 p.m., and Sunday matinee performances begin at 2 p.m.
Regular — $30
Seniors — $28
Regular — $10
Seniors — $8
Non-Avila Students — $8
Avila Students — FREE
Children under 10 receive free entry at all Avila Performing Arts events