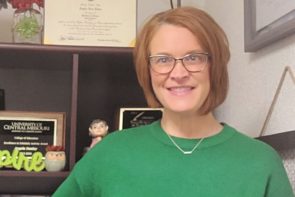 Dr. Angela Danley, Professor and Director of Clinical and Field Based Experiences at Avila University, served in a variety of roles in public education for 18 years prior to working in higher education. Her experience in teaching special education (PreK-12th grade), classroom teacher, and serving as an instructional coach allow her to share valuable knowledge with tomorrow's teachers. Dr. Danley served as Associate Professor and Program Coordinator of Elementary Education at the University of Central Missouri from 2013-2022. She was charged with the responsibility of maintaining partnerships with district-level and school-level administrators for the early childhood and elementary program as well as analyzing and reporting on the program assessment data for elementary education. She helped develop the online cohort model for the early childhood and elementary program, which was a year-long senior-level experience for those students living in St. Louis, Missouri, and the Springfield, Missouri area.
Dr. Danley's research interests include pedagogy, dispositions, instructional strategies, assessment strategies. and achievement data. She has been published in peer-reviewed journals such as InSight, School University Partnerships, Tennessee Literacy Journal, the International Journal of the Whole Child, Educational Renaissance, and The Missouri Reader. Dr. Danley was the curriculum director for KMOS Summer Classroom in 2020, which earned two public media awards in 2021. KMOS Summer Classroom was created in response to school closures during the COVID-19 pandemic. Her work for KMOS Summer Classroom was also recognized by Avila University in 2020 when she was awarded the Alumni Service Award.
Dr. Danley is passionate about all things related to education and preparing effective classroom teachers. She is proud to be a first-generation college graduate and contributes her success in teaching to her professors she had when she attended Avila University. She is excited to be at Avila University to help prepare effective teachers and pass the torch on to those who enter the teaching profession and continue their education.
Dr. Danley resides in Blue Springs, Missouri, with her husband Bob, who is a Controller for AAG investments, and her two daughters, Abbey and Libby. She is also a proud dog mom to Andie (chocolate lab), Kacey (Jack Russell), and three doxies (Moose, Elliot, and Billy). In her spare time, Dr. Danley enjoys traveling, exercising, attending country concerts, the KC Chiefs, and singing.
The meaning of life is to find your gift. The purpose of life is to give it away – Pablo Picasso.
2012 Ed.D. in Educational Leadership, Policies, and Foundations - University of Missouri-Kansas City 2009 Ed. S. in School Administration- University of Central Missouri 1999 MA in Teaching - Webster University 1996 BS in Special Education- Avila University
Awards 2022- Excellence in Scholarly Activity - University of Central Missouri 2022- Finalist for Outstanding Advisor of the Year Award- University of Central Missouri 2021. 2020 - Finalist for the Governor's Excellence in Education Award- University of Central Missouri 2021- Public Media Award for Community Engagement: Local Project- National Educational Telecommunications Associate (NETA) Conference and Corporation for Public Broadcasting (CPB) Public Media 2021- Public Media Award for Education: COVID-19 Education-National Educational Telecommunications Associate (NETA) Conference and Corporation for Public Broadcasting (CPB) Public Media 2021- Learning to a Greater Degree Award – University of Central Missouri 2020 -Alumni Service Award- Avila University 2017- Pedagogical Study Category Award- Graduate Research Council - University of Central Missouri 2017 -Excellence in Scholarly Activity - University of Central Missouri 2016-Excellence in Scholarly Activity- University of Central Missouri 2011 - Excellence in Teaching Award- Lee's Summit School District Peer Reviewed Publications: Atkins, C. & Danley, A. (2020). Supporting teacher candidates during COVID-19. Educational Renaissance. 9 (31-40). Danley, A. (2020). Five tips for community building in a distance learning classroom. The Missouri Reader, 44 (1). 28-29. Danley, A. (2021). Five ways to use google jamboard during literacy instruction. The Missouri Reader, 44 (2). 40-41. Danley, A. (2020). Fostering a growth mindset using two children's books: ""Beautiful Oops"" by Barney Saltztberg and ""Stickley Makes a Mistake: A Frog's Guide to Trying Again"" by Brenda S. Miles. International Journal of the Whole Child. 5 (2). https://libjournals.mtsu.edu/index.php/ijwc/issue/view/174/103 Danley, A. (2020). Providing teacher candidates experience in data teams: Analyzing literacy data. SRATE Journal, 29 (1). 1-8. Danley, A. (2020). Using choice boards to differentiate instruction in the classroom. In A. M. Quinzio-Zafran and E. A. Wilkins (Eds.). The new teacher's guide to overcoming common challenges: curated advice from award-winning teachers. New York, NY: Taylor & Francis/Routledge. https://doi.org/10.4324/9781003105008. Danley, A. (2020). Visualizing with reading: An example of an interactive read aloud. Tennessee Literacy Journal. 1(2). 53-56. Danley, A.; McCoy, A. & Weed, R. (2016). Exit tickets open the door to university learning. InSight: A Journal of Scholarly Teaching and Learning. 11, 48-58. Danley, A. & McManus, T. (2020). The semantic gradients strategy: A way to build students' understanding of how words relate. Tennessee Literacy Journal. 2(1), 36-39. Danley, A. & O' Rear, A. (2019). A vocabulary strategy: K.I.M. (key ideas, information, and memory cue. The Missouri Reader. 42 (3), 26-27. Danley, A. & Theiss, D. (2015). Using walkthrough observations to document dispositional actions. School University Partnerships. 8(2), 26-33. Danley, A.; Tye, N.; & Loman, K. (2020). Analyzing student achievement data: Preparing teacher candidates for leadership. International Journal of the Whole Child. 5(1), 10-27. Danley, A; Tye, N.; Loman, K.; Barlow, A. & Nickens, N. (2016). Revealing dispositions: a comparison study of a traditional pathway university model and a clinical pathway university model. School University Partnerships. Special Ed., 153-170. Danley, A. & Williams, C. (2020). Choice in learning: Differentiating instruction in the college classroom. InSight: A Journal of Scholarly Teaching and Learning, 15, 83- 104. https://doi.org/10.46504/15202005da Danley, A. & Williams, C. (2020). Modifying the clinical field experience during COVID-19. Teacher Education Journal of South Carolina (TEJSC). Loman, K., Nickens, N., Tye, N., Danley, A., Snider, K., McCoy, A., Diekmann, S, & Gilbert, A. (2019). Peer coaching during field experiences: Cultivating teacher candidates' peer feedback and reflective practices. Journal of Early Childhood Teacher Education. 85- 99. https://doi.org/10.1080/10901027.2019.1569183 Nickens, N. ;Loman, K.; Tye, N.; Danley, A.; & DeVilbliss. (2018). Matched for success: strategic student teaching placements. School University Partnerships. The Journal of National Association for Professional Development Schools. 11 (4), 5-15. Tye, N.; Danley, A.; Richardson, C.; & Loman, K. (2019). Five quick write strategies for engaging students. The Missouri Reader, 42(2), 40-47. Online Pedagogy Publications: Danley, A. (2022). "Hook" the students to prompt reflection and discussion in synchronous sessions. In A. deNoyelles, A. Albrecht, S. Bauer, & S. Wyatt (Eds.), Teaching Online Pedagogical Repository. Orlando, FL: University of Central Florida Center for Distributed Learning. Danley, A. (2015). Provide Non-linguistic representations to foster reflection&. In K. Thompson and B. Chen. Teaching Online Pedagogical Repository. Orlando, FL. University of Central Florida for Distributed Learning. Danley, A. (2015). Require online exit tickets for active engagement. In K. Thompson and B. Chen. Teaching Online Pedagogical Repository. Orlando, FL. University of Central Florida for Distributed Learning. Danley, A. (2018). Using mind watch journals to reflect and connect to content. In Chen, B., DeNoylles, A. & Thompson, K. (Eds). Teaching Online Pedagogical Repository. Orlando, FL: University of Central Florida Center for Distributed Learning. Danley, A. (2019). Using start, stop, continue to gather student feedback to improve instruction. In Chen, B., deNoyelles, A., & Thompson, K. (Eds.), Teaching Online Pedagogical Repository. Orlando, FL: University of Central Florida Center for Distributed Learning. Other Publications: Danley, A.& Palmer, D. (2019). Promoting family involvement and the love of reading through an author visit. Stories from the Field. National Association for Professional Development Schools. Loman, K.; Danley, A.; Tye. N. (2015, 2016). Teaching literacy in early childhood and middle Grades (preliminary and 1st ed) San Diego, CA: Cognella, Inc. Loman, K.; Danley, A.; Tye. N. (2019). Teaching literacy in early childhood and middle Grades (2nd ed). San Diego, CA: Cognella, Inc. Peer Reviewed Presentations: Danley, A. (2021). Presenting on air lessons during a pandemic: Reaching students K-5. PDS SERVE Danley, A. (2020). Providing a year long field experience with a mentoring teacher. PDS SERVE Danley, A. & Loman. K. (2015). Using quick writes: writing to learn strategies. Appreciative Education Conference: University of South Carolina. Mrytle Beach, SC Danley, A.; Loman, K., Barlow, A. (2015). Clinical pathways: taking the route to success National Association for Professional Development Schools: Atlanta, GA. *Danley, A. & Theiss, D. (2014). Using exit tickets to reflect on learning in the university classrooms. Paper presented at Teaching Professor Conference. Boston, MA. Danley, A. & Tye, N. (2020). Growing teacher candidates to become teacher leaders. National Association for Professional Development Schools. Atlantic City, NJ Danley, A.; Tye, N.; Loman, K.; & Nickens, N. (2016). Revealing teacher dispositions: clinical pathways v traditional pathways. Paper Presented at Professional Development Schools National Conference. Orlando, FL. Loman, K.; Danley, A.; Tye, N.; Nickens, N.; & DeVilbiss, M. (2016). High quality teacher candidate retention and reflective counseling for students less likely to succeed. Paper Presented at Professional Development Schools National Conference. Orlando, FL. Theiss, D. & Danley, A. (2014). Using walkthrough observation forms to evidence the development of teacher candidate dispositions. Paper presented at National Association of Professional Development Schools. Las Vegas, NV. Symposium Presentations: Atkins, C,; Danley, A. & Briggs, M. (2020). Developing culturally responsive educators. Graduate Scholars Symposium (Virtual). University of Central Missouri Non-Peer Reviewed Presentations Danley, A. (2021). Teacher candidates reaching k-5 students through on air Lessons: A partnership with KMOS-TV. Missouri Association of Colleges for Teacher Education (MACTE) Danley, A. & Snider, K. (2021). Preparing teacher candidates to be trauma informed. Teach it Forward. University of Central Missouri