Virtual
This event will be held virtually/online.  Additional information regarding how to attend or log on to the event can be found on the individual event page or in the event calendar description.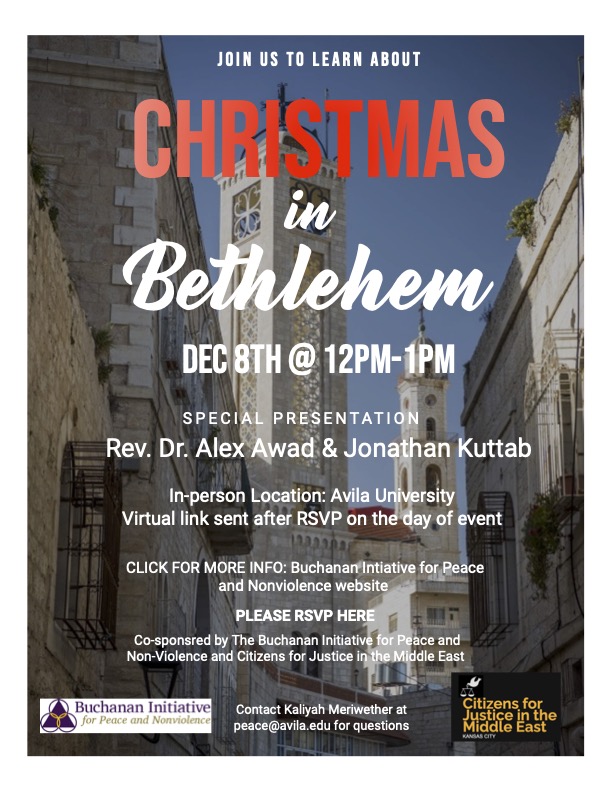 Dec. 8 at 12 p.m., The Buchanan Initiative for Peace and Nonviolence at Avila University is presenting a Christmas in Bethlehem program featuring Rev. Dr. Alex Awad and Jonathan Kuttab. The program will be held in the Thornhill Gallery and virtually via Zoom for those who cannot attend in person.
The program will present photographs of contemporary Bethlehem. It is co-sponsored by Citizens for Justice in the Middle East, a group of concerned citizens from the greater Kansas City area that advocates for a responsible U.S. foreign policy in Israel and Palestine that recognizes the needs, rights, and aspirations of both peoples.
The Rev. Dr. Alex Awad will speak via Zoom about current realities in the historic city of Bethlehem. Dr. Awad was Dean of Students and a full-time professor at Bethlehem Bible College for 24 years. He is the author of two books, Through the Eyes of the Victims, an account of the Israeli-Palestinian conflict as seen from a Palestinian perspective, and a memoir, Palestinian Memories: A Palestinian Mother and Her People, as well as numerous articles. Dr. Awad sits on the board of trustees of the Palestinian Christian Alliance for Peace (PCAP), a non-sectarian, ecumenical alliance of Palestinian American Christians that help churches and other faith-based groups form a clearer understanding of the realities in Israel-Palestine and advocate for peace through justice.
Jonathan Kuttab, a human rights lawyer who practices in the United States, Israel, and Palestine and is an expert on international law, will answer questions from those attending virtually or watching in the Thornhill Gallery on the Avila campus. Mr. Kuttab sits on the board of Bethlehem Bible College as well as PCAP and is a co-founder of both the Palestinian human rights group Al-Haq and Non-Violence International. He is a recognized authority on Israel and Palestine.