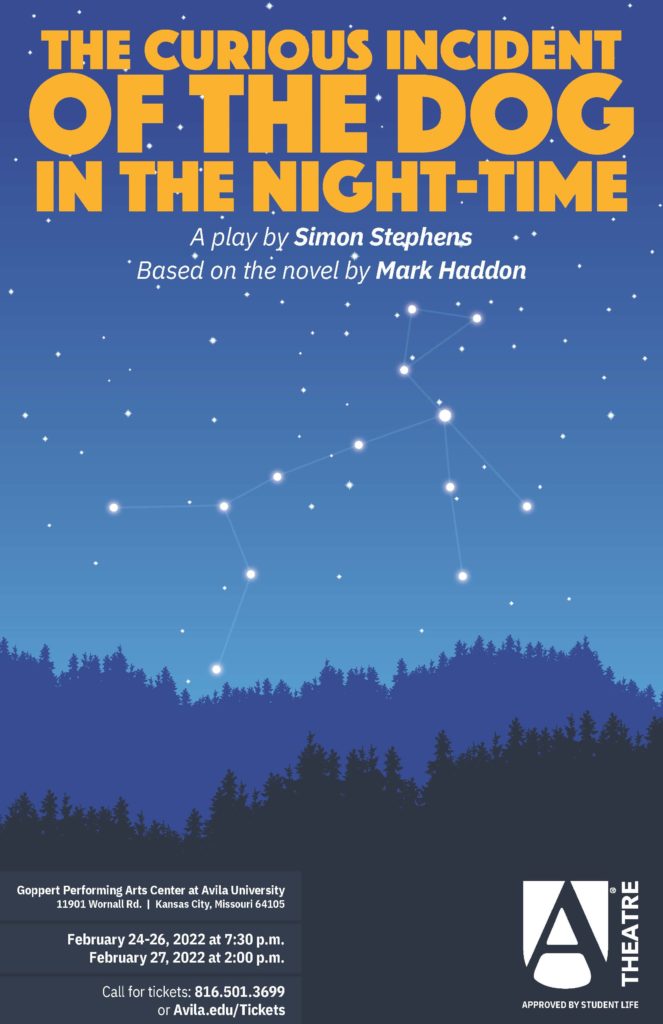 The Curious Incident of the Dog in the Night-Time
A play by Simon Stephens
Based on the novel by Mark Haddon
February 24, 25, & 26 at 7:30 pm
February 27 at 2 pm
The Frantze Family Black Box Theatre
Goppert Performing Arts Center
Avila University
11901 Wornall Road
Kansas City, MO 64105
Face masks and social distancing are required.
Tickets
To reserve tickets, please contact our Box Office via telephone at 816.501.3699 or email at box.office@avila.edu.
Regular Tickets
Regular — $10
Seniors — $8
Non-Avila Students — $8
Avila Students — FREE
Children under 10 receive free entry at all Avila Performing Arts events
Who's Who
Learn more about the Curious Incident of the Dog in the Night-Time's cast, staff, and crew!
---
Director's Notes
Having taught in the public education system for almost 20 years, I've had the opportunity to teach several students on the autism spectrum. While I understood intellectually the behaviors and modifications these students needed, I always felt that my comprehension was lacking until I started delving into this play. THE CURIOUS INCIDENT OF THE DOG IN THE NIGHT-TIME based on the novel by Mark Haddon and adapted by Simon Stephens gave me a glimpse of one mind, helping me to understand better the world of people on the autism spectrum and how they experience the world. A world where all our senses seem to overwhelm and betray our understanding of human relationships and how they fit into this multimodal existence. Truth be told, I might've gained insight into one perspective but each and every person is different and has their own story to tell on this spectrum.
One of the aspects I love about this play is the ensemble helping to create what goes on inside and outside of Christopher's mind. If theatre teaches us anything it's how to work together, learning through our differences-it's not called a collaborative art form for nothing. Christopher's journey teaches us that not only do we rely on our own inner vision, but we also look to people around us, people who are our family or might become our family, and give us the encouragement to grow especially when we are so different. Our journey like Christopher's is unique and our own, so we should strive to have tolerance for everyone's journey knowing they may experience the world differently than we do. Being accommodating and tolerant never diminishes us but makes us stronger.
—William Grey Warren, Director
Cast
Christopher Boone
Understudy
Richard Bertoldie
Tucker Rushing
Ed
Understudy
Christian Lucas
Davin Zamora
Judy
Understudy
Rachel Howard
Miriam Gleeson
Siobhan
Understudy
Isabella Brauner
Bee Givens
Voice One/Posh Girl
Understudy
Miriam Gleeson
Ari Hernadez
Voice Two/Roger/Duty Sergeant/Mr. Wise
Understudy
Tyler Lindquist
Kyle Hammond
Voice Three/Mr. Thompson/Drunk Two
Understudy
Izaak Kimsey
Davin Zamora
Voice Four/Uncle Terry/London Policeman
Understudy
Kyle Hammon
Izaak Kimsey
Voice Five/Mrs. Gacoyne/Shopkeeper
Understudy
Lynn Winkler
McKenna Sandford
Voice Six/Mrs. Alexander/Lady in Street/Woman on Train
Understudy
Bee Givens
Lynn Winkler
Mrs. Shears/Punk Girl/Station Guard
Understudy
McKenna Sanford
Lynn Winkler
#40/Information
Understudy
Air Hernandez
Miriam Gleeson
Policeman/Reverend Peters/Station Policeman
Understudy
Davin Zamora
Tyler Lindquist
Man Behind Counter/Drunk One/Man with Socks
Understudy
Tucker Rushing
Christian Lucas
Production Staff
| | |
| --- | --- |
| Director | William Grey Warren |
| Fight Choreographer | William Grey Warren |
| Dramaturg | Dr. Sue Ellen McCalley & Dr. Daniel Weigel |
| Dialect Coach | Matt Schwader Habor |
| Scenic Designer | Tyler Lindquist |
| Digital Media Designers | Samantha Reiner & Abigail Dearing |
| Costume Designer | Shannon Smith-Regnier |
| Lighting Designer | Talia Hinckley |
| Sound Designer | Davin Zamora |
| Properties Designer | Ari Hernandez & Rachel Howard |
| Stage Manager | Tinna Rivera |
| Technical Director | Bethany Joy Elliot |
| Assistant to the Director | Ariana Hernandez |
| Assistant Stage Manager | Ta'ja Snipes |
| Assistant Scenic Designers | Ta'ja Snipes & Christian Lucas |
| Assistant Costume Designer | Kelsey Harms |
| Assistant Lighting Designers | Richard Bertoldie & Eleanor Frances |
| Assistant Sound Designers | Kaitlyn White & Charlie Parsons |
| Box Office Supervisor | Alexandra Pilley |
Production Crew
Scenic Change Artist
Isabella Brauner
Master Electrician
Molly Zagorski
Master Carpenter
Christian Lucas
Paint Crew
Gaby Dawn & Izaak Kimsey
Props Crew
Danielle Adcock & Miriam Gleeson
Electricians
Bee Givens, Tucker Rushing, Richard Bertoldie,
Eleanor Frances & Darwyn Thomson
Carpenters
Daniel Hicks, Garland Moore & Gabriella Fast
Costume Crew
McKenna Sandford & Lynn Winkler
Wardrobe Crew
Kelsey Harms
Scenic Run Crew
Daniel Hicks
Light Board Operator
Eleanor Frances
Audio Technician/Sound Board Operator
Kaitlyn White
House Manager
Charlie Parsons
Front of House
Garland Moore, Adrianna Wendel, Samantha Reiner & Abigail Dearing
Production Office
Matt Schwader Harbor, Tinna Rivera & Adrianna Wendel
Box Office
Adrianna Wendel
Performing Arts Faculty
Dean of the College of Liberal Arts and Social Sciences
Dr. Charlene Gould
Chair of Performing Arts
Dr. Amity Bryson
Director of Performance Studies
Matt Schwader Harbor
Director of Design and Technology
Bethany Elliot
Artist in Residence
Dr. Michalis Koutsoupides
Adjunct Faculty
Chioma Anyanwu
Jim Fletcher
Hope Goertzen
John Livingston
Gene Mackey
Dr. Aaron Redburn
Kristina Ruf
Shannon Smith-Regnier
Alexandra Pilley
Special Acknowledgments
Advancement Office
Belinda Troxler and Bob Crow
Maintenance and Housekeeping
Great Western Dining
Office of Marketing and Communication
Dr. Sue Ellen McCalley and Avila University's School of Education
Dr. Daniel Weigel and Avila University's Student Access Office
Dr. Chalene Gould
Jordan Malone
Jerry Manan
Molly Tiede-Schroer, Ohio University
Dramaturg Notes
Imagine understanding the world in terms of a binary code – either/or. Imagine being bright and intelligent, but social conventions, emotions, and intentions, PEOPLE make no sense to you. Imagine creating routines and rituals that serve you well, but no one understands them. Imagine having a very complex conceptual vocabulary, and yet understanding what others say only at the literal level. This is the world that Chris inhabits. From the moment Chris finds the dog and throughout all of the experiences he encounters, these defining characteristics help and hinder him. The Curious Incident of the Dog in the Night-Time, allows us to put ourselves in Chris' shoes and share his adventures. — Dr. Sue Ellen McCalley
---
Arts at Avila
Friends
David C. Connor
Heather Noble
Marcia, Jean & Rosie Pasqualini
Pattie & Kevin Robertson
Regina Staves, Ph.D. & Ryan Staves
Scott & Diann White
Sponsors
Wendy & John Acker
Amy Bucher
Darby Gough & Girls
Troy & Paige Illum
Paul & Mary LeCluyse
Gene & Sheryl Mackey
Sue Ellen McCalley
Mr. Nick & Dr. Amy Milakovic
Dr. Cathy Miller
Maggie Mohrfeld & David Davis
Alicia & Randy Murillo
Benjamin Pascoe
Blair & Sue Penney
Matt Schwader Harbor
Diana & Jim Taylor
Nancy J. White
Susan & Chris Winters
Mr. & Mrs. Sabin Yanez
Patrons
Anonymous gift in honor of the Sisters of St. Joseph of Carondelet
Walter Brandes
Dr. Amity H. Bryson
Bill & Jean Buchanan
Lauren E. Chiodo-Benmuvhar
Carol K. Coburn, Ph.D.
Constance M. Cooper Charitable Foundation
Mr. Bob Crow & Mrs. Belinda R. Troxler
Roderick J. & Jo Anne Cyr Foundation
Carol Davis
Joseph & Susan Fahey
Jim Fletcher & Carol Cowles
Dave & Geri Frantze
Vita Goppert Charitable Trust
Richard & Charlene Gould
Dr. Andy Jett & Brad Ozias
Drs. Larry & Jan Marsh
Anya, Suzanne & Dr. Jeffrey Myers
Robert M. Scoles 88'
Victor E. & Caroline E. Shutte Foundation
Dr. Ronald A. & Mrs. Suzanne Slepitza
Dr. Jordan Wagge
Jim & Sue Willcox
David & Ginny Woy
---
Ticket Information
Reserve tickets by calling the Box Office at 816.501.3699 for more information.
Evening performances begin at 7:30 p.m., and Sunday matinee performances begin at 2 p.m.
Regular — $30
Seniors — $28
Regular — $10
Seniors — $8
Non-Avila Students — $8
Avila Students — FREE
Children under 10 receive free entry at all Avila Performing Arts events