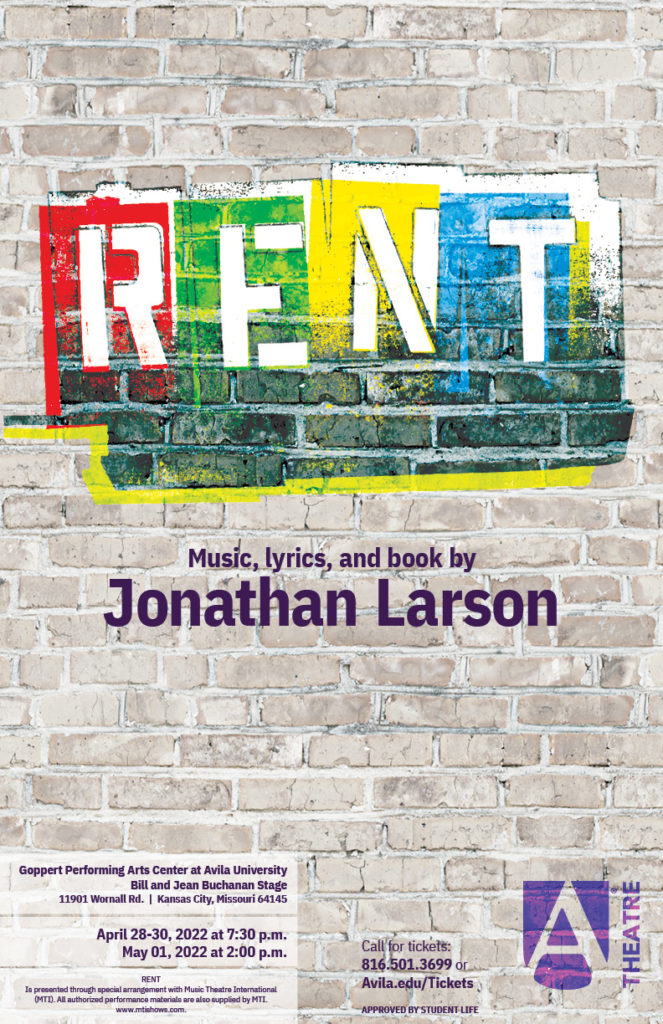 RENT
Music, Lyrics, and Book by Jonathan Larson
April 28, 29 & 30 at 7:30 pm
May 1 at 2 pm

Goppert Performing Arts Center
Bill and Jean Buchanan Stage
Avila University
11901 Wornall Road
Kansas City, MO 64105
Tickets
To reserve tickets, please contact our Box Office via telephone at 816.501.3699 or email at box.office@avila.edu.
Regular Tickets
Regular — $10
Seniors — $8
Non-Avila Students — $8
Avila Students — FREE
Children under 10 receive free entry at all Avila Performing Arts events
Who's Who
Learn more about the RENT cast, staff, and crew!
---
Director's Notes
"How do you document 'real life' when real life's getting more like fiction each day?"
This first line of the song "Rent", I believe, succinctly sums up our human existence of the past couple of years now. Our "new normal" as a human race has evolved several times over in such a short span of time, the turn of events has been almost cinematic in their dramatic ebbs and flows. I have found that 'when real life's getting more like fiction each day,' we search desperately for something that is true to us personally: community. One of the cruxes of the pandemic is/was the inability to gather with our various communities whether it be family, friends, co-workers, or neighbors. Though we are still weathering that storm a bit, the ability to finally gather has given us some of our footing back. We may not consciously realize it, but we have spent the last few years measuring our lives in terms of love. Many of us have become skillful and meticulous in finding ways to safely gather with those that we love.
Rent is based on Giacomo Puccini's opera La Boheme, in which the character, Mimi, has tuberculosis. In Rent, Mimi is 'plagued' with a different illness that claimed the lives of many people in the 1980s, including quite a few of Rent composer, Johnathan Larson's, friends. Rent is a love letter: to life, to finding your community, to acceptance, and, above all, to love in all of its boundless, kaleidoscopic forms.
—Chioma Anyanwu, Director
Cast
Mark Cohen
Understudy
Richard Bertoldie
Daniel Hicks
Roger Davis
Understudy
Brandon Williams
Tyler Lindquist
Mimi Marquez
Gracey Hopkins
Tom Collins
Paul Joseph
Angel Schunard
Garland Moore
Maureen Johnson
Understudy
Taylor Williams
Danielle Adcock
Joanne Jefferson
Understudy
Bee Givens
Alec Sade
Benny Coffin
Understudy
Davin Zamora
Tucker Rushing
Ensemble
Danielle Adcock, Gaby Dawn, Miriam Gleeson, Ari Hernandez, Rachel Howard, Izaak Kimsey, Tucker Rushing, Alec Sade, McKenna Sanford
Production Staff
| | |
| --- | --- |
| Director | Chioma Anyanwu |
| Musical Director | Dr. Amity Bryson |
| Choreographer | Hope Williams |
| Scenic Designer | Rachel Howard |
| Digital Media Designer | Samantha Reiner |
| Costume Designer | Molly Zagorski |
| Lighting Designer | Tinna Rivera |
| Sound Designer | Talia Hinckley |
| Properties Designers | Isabella Brauner & Ellie Peoples |
| Stage Manager | Kaitlyn White |
| Technical Director | Bethany Elliot |
| Costume Supervisor | Shannon Reginer |
| Assistant Stage Managers | Talia Hinckley & Charlie Parsons |
| Assistant Digital Media Designer | Danielle Adcock |
| Assistant Scenic Designer | Daniel Hicks |
| Assistant Costume Designers | Kelsey Harms & Ta'ja Snipes |
| Assistant Lighting Designers | Richard Bertoldie & Eleanor Frances |
| Assistant Sound Designers | Tyler Lindquist & Samantha Reiner |
| Box Office Supervisor | Xanda Pilley |
Pit
| | |
| --- | --- |
| Rehearsal Accompanist & Lead Piano | John Livingston |
| Guitar | Sophia Motta |
| Synthesizer | Ransom Ward |
| Drums | Analiese Motta |
Production Crew
| | |
| --- | --- |
| Scenic Change Artist | Ari Hernandez |
| Painters | Danielle Adcock, Richard Bertoldie, Gaby Dawn & Lynn Winkler |
| Master Carpenter | Christian Lucas |
| Carpenters | Richard Bertoldie & Davin Zamora |
| Costumes | Kelsey Harms & Ta'ja Snipes |
| Props | McKenna Sanford |
| Master Electricians | Tyler Lindquist & Samantha Reiner |
| Electricians | Izaak Kimsey, Garland Moore & Tucker Rushing |
| Light Board Operator | Samantha Reiner |
| Sound Board Operator | Abby Dearing |
| Digital Media Operator | Eleanor Frances |
| Run Crew | Kyle Hammond & Lynn Winkler |
| Wardrobe Crew | Kelsey Harms & Ta'ja Snipes |
| Production Office | Matt Schwader Harbor, Tinna Rivera & Adrianna Wendel |
| House Manager | Tinna Rivera |
| Box Office | Kyle Hammond & Adrianna Wendel |
Performing Arts Faculty
Interim Dean of the College of Liberal Arts and Social Sciences
Dr. Regina Staves
Chair of Performing Arts
Dr. Amity Bryson
Director of Performance Studies
Matt Schwader Harbor
Director of Design and Technology
Bethany Elliot
Artist in Residence
Dr. Michalis Koutsoupides
Adjunct Faculty
Chioma Anyanwu
Jim Fletcher
Hope Goertzen
John Livingston
Gene Mackey
Dr. Aaron Redburn
Kristina Ruf
Shannon Smith-Regnier
Alexandra Pilley
Special Acknowledgments
Advancement Office
Avila's School of Visual & Communication Arts
Leslie Coats
Belinda Troxler and Bob Crow
Nicole Equibel
Great Western Dining
Leawood Stage Company
Guilherme De Carvalho Berbel Lozani
Maintenance and Housekeeping
Office of Marketing and Communication
MicroCinema Film Club
Benjamin Pascoe
Garrett Tipton
Kimberly Wibbenmeyer, Sullivan High School Theater
---
Arts at Avila
Friends
David C. Connor
Heather Noble
Marcia, Jean & Rosie Pasqualini
Pattie & Kevin Robertson
Regina Staves, Ph.D. & Ryan Staves
Scott & Diann White
Sponsors
Wendy & John Acker
Amy Bucher
Darby Gough & Girls
Troy & Paige Illum
Paul & Mary LeCluyse
Gene & Sheryl Mackey
Sue Ellen McCalley
Mr. Nick & Dr. Amy Milakovic
Dr. Cathy Miller
Maggie Mohrfeld & David Davis
Alicia & Randy Murillo
Benjamin Pascoe
Blair & Sue Penney
Matt Schwader Harbor
Diana & Jim Taylor
Nancy J. White
Susan & Chris Winters
Mr. & Mrs. Sabin Yanez
Patrons
Anonymous gift in honor of the Sisters of St. Joseph of Carondelet
Walter Brandes
Dr. Amity H. Bryson
Bill & Jean Buchanan
Lauren E. Chiodo-Benmuvhar
Carol K. Coburn, Ph.D.
Constance M. Cooper Charitable Foundation
Mr. Bob Crow & Mrs. Belinda R. Troxler
Roderick J. & Jo Anne Cyr Foundation
Carol Davis
Joseph & Susan Fahey
Jim Fletcher & Carol Cowles
Dave & Geri Frantze
Vita Goppert Charitable Trust
Richard & Charlene Gould
Dr. Andy Jett & Brad Ozias
Drs. Larry & Jan Marsh
Anya, Suzanne & Dr. Jeffrey Myers
Robert M. Scoles 88'
Victor E. & Caroline E. Shutte Foundation
Dr. Ronald A. & Mrs. Suzanne Slepitza
Dr. Jordan Wagge
Jim & Sue Willcox
David & Ginny Woy
---
Ticket Information
Reserve tickets by calling the Box Office at 816.501.3699 for more information.
Evening performances begin at 7:30 p.m., and Sunday matinee performances begin at 2 p.m.
Regular — $30
Seniors — $28
Regular — $10
Seniors — $8
Non-Avila Students — $8
Avila Students — FREE
Children under 10 receive free entry at all Avila Performing Arts events