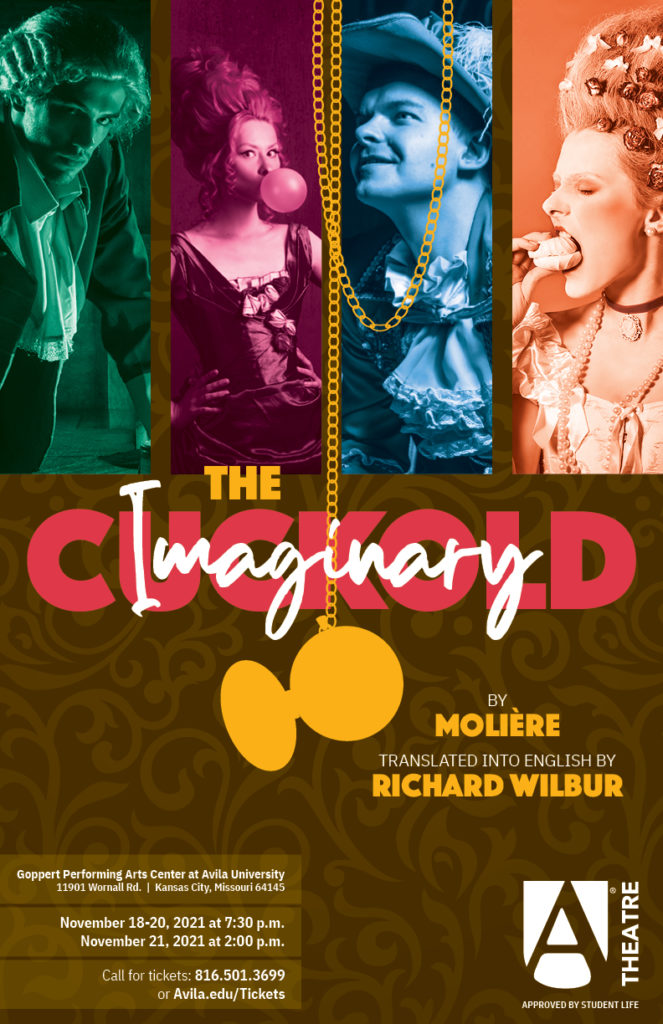 The Imaginary Cuckhold
By Moliere
Translated into English by Richard Wilbur
November 18, 19, 20 at 7:30 pm
November 21 at 2 pm
The Bill & Jean Buchanan Stage
Goppert Performing Arts Center
Avila University
11901 Wornall Road
Kansas City, MO 64105
Face masks and social distancing are required.
Tickets
To reserve tickets, please contact our Box Office via telephone at 816.501.3699 or email at box.office@avila.edu.
Regular Tickets
Regular — $10
Seniors — $8
Non-Avila Students — $8
Avila Students — FREE
Children under 10 receive free entry at all Avila Performing Arts events
Who's Who
Learn more about the Imaginary Cuckold's cast, staff, and crew!
---
Director's Notes
The Imaginary Cuckold, also known as Sganarelle, like all of Moliere's works, is a comedy of manners. With its twists and turns, one might also consider it a comedy of intrigue. The play is one-act, consisting of twenty-four scenes, with no intermission. It premièred on May 28th, 1660, at the Théâtre du Petit-Bourbon, which was the first theatre the troupe of Molière used after their return to Paris, in 1658.
Molière's comedies were influenced heavily by Italian Commedia dell'arte troupes touring Europe. Commedia dell'arte spread all around Europe starting in the 1570s and was almost as at home in France as in Italy. We wanted to pay homage to these roots by incorporating a series of lazzi into the production. Since Imaginary Cuckold is only one act, sophomore Ariana Hernandez, at my request, took the lead in working with our "Commedia Cast" to develop a secondary story, while senior Stephanie Hatesohl and I rehearsed the play proper. We then folded the two together. I am very excited for you to see the results.
If there is a lesson at all presented in this play, I believe it is that we as individuals are never privy to the whole story when it comes to other people – even those closest to us. When we act out of passion, neglecting calm reason and a willingness to compassionately listen to one another, we can easily slide into assuming the worst of those around us. While that may be a simple truth, it isn't always an easy thing to remember in the moment. Wouldn't it be a wonderful thing if we could all take a moment, recognize ourselves in others, and then just have a laugh together at our all-too-common follies?
As Sganarelle reminds us… "Remember my example and be wise: When things look simple, don't believe your eyes."
—Matt Schwader Harbor, Director
Cast
Sganarelle
Understudy
Davin Zamora
Richard Bertoldie
Sganarelle's Wife, "Suzette"
Understudy
Rachel Howard
Ariana Givens
Célie
Understudy
Danielle Adcock
McKenna Sanford
Gorgibus
Understudy
Gaby Dawn
Daniel Hicks
Lélie
Understudy
Tyler Lindquist
Tucker Rushing
Gros-René
Understudy
Tucker Rushing
Ariana Hernandez
Maid,"Marguerite"
Understudy
Isabella Brauner
Ariana Hernandez
Mme Villebrequin
Understudy
Lynn Winkler
Kathryn Sade
The Relative, "Mme Essay"
Understudy
Kathryn Sade

Valére
Understudy
Richard Bertoldie
Izaak Kimsey
Ensemble
Daniel Hicks
Live Musicians
| | |
| --- | --- |
| Viola | Ransom Ward |
| DJ | Brandon Williams |
Production Staff
| | |
| --- | --- |
| Director | Matt Schwader Harbor |
| Live Musician Supervisor | Dr. Michalis Koutsoupides |
| Scenic Designer | Tyler Lindquist |
| Costume Designer | Shannon Smith-Regnier |
| Lighting Designer | Talia Hinckley |
| Sound Designer | Tinna Rivera |
| Properties Designer | Isabella Brauner |
| Dramaturg | Adrianna Wendel |
| Stage Manager | Kaitlyn White |
| Lazzi Dance Choreography | Ariana Hernandez |
| Final Dance/Curtain Call Choreography | Danielle Adcock |
| Technical Director | |
| Assistant Directors | Ariana Hernandez, Stephanie Hatesohl |
| Assistant Stage Managers | Gabriella Fast, Ariana Hernandez |
| Assistant Scenic Designers | Christian Lucas, Rachel Howard |
| Assistant Costume Designers | Samantha Reiner, Abby Dearing |
| Box Office Supervisor | Alexandra Pilley |
Production Crew
| | |
| --- | --- |
| Scenic Change Artist | Rachel Howard |
| Paint Crew | Adrianna Wendel, Gabriella Fast, Gaby Dawn, Ellie Peoples, Merriam Gleeson |
| Props Crew | Charlie Parsons, Ta'ja Snipes, Lynn Winkler |
| Master Carpenters | Christian Lucas, Tyler Lindquist |
| Carpenters | Tucker Rushing, Izaak Kimsey, Davin Zamora, Gaby Dawn |
| Costumes | Kelsey Harms, Danielle Adcock, Molly Zagorski, Hannah Zimmerman, Reggie Black |
| Electricians | Richard Bertoldie, Darwyn Thompson, Abby Dearing |
| Light Board Operator | Abby Dearing |
| Spotlight Operators | Ellie Peoples, Charlie Parsons |
| Sound Board Operator | Tinna Rivera |
| Sound Supervisor | Hannah Zimmerman |
| Run Crew | Izaak Kimsey, Ta'ja Snipes, Ellie Peoples, Charlie Parsons |
| Wardrobe Crew | Samantha Reiner, Kelsey Harms, Ariana Givens |
| Production Office | Matt Schwader Harbor, Adrianna Wendel, Tinna Rivera, Stephanie Hatesohl |
| House Manager | McKenna Sanford |
| Box Office | Talisha Williams, Daniel Hicks |
Performing Arts Faculty
Dean of the College of Liberal Arts and Social Sciences
Dr. Charlene Gould
Chair of Performing Arts
Dr. Amity Bryson
Director of Performance Studies
Matt Schwader Harbor
Director of Design and Technology
Artist in Residence
Dr. Michalis Koutsoupides
Adjunct Faculty
Chioma Anyanwu
Jim Fletcher
Hope Goertzen
Nicole Green
John Livingston
Gene Mackey
Andy Perkins
Dr. Aaron Redburn
Kristina Ruf
Shannon Smith-Regnier
Dana Woolard-Hughlett
Alexandra Pilley
Special Acknowledgments
Advancement Office
Belinda Troxler and Bob Crow
Maintenance and Housekeeping
Great Western Dining
Office of Marketing and Communication
Dr. Felicia Londre, President of KC Moliere: 400 in 2022
Quentin Rivera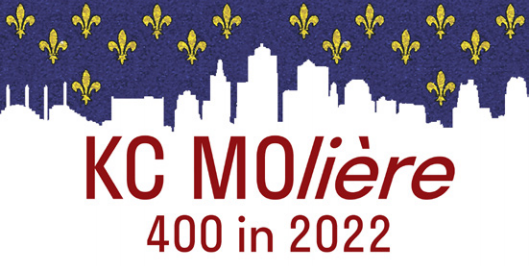 ---
Arts at Avila
Friends
David C. Connor
Heather Noble
Marcia, Jean & Rosie Pasqualini
Pattie & Kevin Robertson
Regina Staves, Ph.D. & Ryan Staves
Scott & Diann White
Sponsors
Wendy & John Acker
Amy Bucher
Darby Gough & Girls
Troy & Paige Illum
Paul & Mary LeCluyse
Gene & Sheryl Mackey
Sue Ellen McCalley
Mr. Nick & Dr. Amy Milakovic
Dr. Cathy Miller
David & Maggie Mohrfeld Davis
Alicia & Randy Murillo
Benjamin Pascoe
Blair & Sue Penney
Matt Schwader Harbor
Diana & Jim Taylor
Nancy J. White
Susan & Chris Winters
Mr. & Mrs. Sabin Yanez
Patrons
Anonymous gift in honor of the Sisters of St. Joseph of Carondelet
Walter Brandes
Dr. Amity H. Bryson
Bill & Jean Buchanan
Lauren E. Chiodo-Benmuvhar
Carol K. Coburn, Ph.D.
Constance M. Cooper Charitable Foundation
Mr. Bob Crow & Mrs. Belinda R. Troxler
Roderick J. & Jo Anne Cyr Foundation
Carol Davis
Joseph & Susan Fahey
Dave & Geri Frantze
Vita Goppert Charitable Trust
Richard & Charlene Gould
Dr. Andy Jett & Brad Ozias
Drs. Larry & Jan Marsh
Anya, Suzanne & Dr. Jeffrey Myers
Robert M. Scoles 88'
Victor E. & Caroline E. Shutte Foundation
Dr. Ronald A. & Mrs. Suzanne Slepitza
Dr. Jordan Wagge
Jim & Sue Willcox
David & Ginny Woy
---
Ticket Information
Reserve tickets by calling the Box Office at 816.501.3699 for more information.
Evening performances begin at 7:30 p.m., and Sunday matinee performances begin at 2 p.m.
Regular — $30
Seniors — $28
Regular — $10
Seniors — $8
Non-Avila Students — $8
Avila Students — FREE
Children under 10 receive free entry at all Avila Performing Arts events