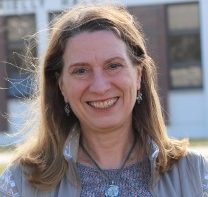 Dr. Karin Gastreich earned a B.S. in Biology at Rice University and a Ph.D. in Zoology at the University of Texas at Austin. She conducts research in animal behavior, community ecology, plant-insect interactions, and biodiversity conservation. She also engages in interdisciplinary work exploring the interface between literary and scientific modes of inquiry. Dr. Gastreich's most recent research focuses on native bee communities in remnant habitats of the Greater Kansas City Metropolitan Area. This research is conducted in collaboration with KC Wildlands/Bridging the Gap, Kansas City Parks and Recreation, and the Missouri Department of Conservation.
Before coming to Avila University, Dr. Gastreich lived for many years in Central America. There, she conducted research in tropical biology and served as Director of the Undergraduate Semester Abroad Program for Duke University and the Organization for Tropical Studies (Duke/OTS). At Duke/OTS, Dr. Gastreich managed all semester and summer undergraduate field programs. She also oversaw the establishment of the Native American and Pacific Islander Research Experience Program. After nearly a decade providing innovative leadership for Duke/OTS, Dr. Gastreich accepted a faculty appointment at Avila University, returning to the greater Kansas City area where she grew up. Dr. Gastreich is happy to be part of the Avila faculty, giving back to her home community by inspiring a new generation of scientists and scholars.
When not conducting research, advising, fulfilling administrative responsibilities, or teaching, Dr. Gastreich writes fiction. She is a recipient of the OZMA Award for fantasy fiction and the Andrews Forest Writer's Residency, as well as a winner of the Women on Writing Flash Fiction Contest. Her women-centered fantasy trilogy (The Silver Web) has been favorably reviewed by top editorial magazines such as Publishers Weekly and Kirkus Reviews. Dr. Gastreich has also published short stories in Zahir, Adventures for the Average Woman, 69 Flavors of Paranoia, and World Jumping.
BI 112, BI 115, BI 313, BI/PY 351, BI 360, BI 363, BI 392, BI 492/493/499, IS 313, IS 365
B.S. in Biology at Rice University
Ph.D. in Zoology at the University of Texas at Austin
Selected Publications:
Gastreich, Karin R. and Amy Milakovic. In Press. Science, Poetics, and Immersive Field Ecology: Generating New Knowledge through Interdisciplinary Inquiry. Journal of Effective Teaching in Higher Education.
Gastreich, K.R. 2020. Assessing urban biodiversity through the eBird citizen science project: A course-based undergraduate research experience (CURE). CourseSource. https://doi.org/10.24918/cs.2020.18
Gastreich, K.R. and Laura Presler. 2020. Remnant prairies and organic gardens provide complementary habitat for native bees within a midwestern urban matrix. Ecological Restoration. 38(1):3-6.
Gastreich, K.R. 2019. Using citizen science data from iNaturalist to explore bumblebee diversity and distribution. LifeDiscoveryEd Digital Library:r2831, https://lifediscoveryed.org/r2831/
Gastreich, Karin and Greg Fitch. 2011. Maternal investment in the bean beetle Callosogruchus maculatus, Laboratory Manual with Teaching Notes. Bean Beetle Curriculum Development Network, https://www.beanbeetles.org/protocols/maternal-investment/
Gastreich, Karin. 2007. Diverse forests, diverse threats. Ecology 88(8):2139-2140.
Hodson, Amanda, and Karin Rita Gastreich. 2006. Evidence for a novel mutualism in the tropical understory shrub Piper urostachym. Biotropica. 38(1):127-131.
Gastreich, Karin R. and Grant Gentry. 2004. Faunal studies in model Piper systems, with a focus on indirect interactions and novel insect-Piper mutualisms. In Lee Dyer, ed. Piper: A model genus for studies of chemistry, ecology, and evolution. Kluwer Academic/Plenum Publishers. New York.
Gastreich, Karin Rita. 2002. Student perceptions of culture and environment in an international context: A case study of educational camps in Costa Rica. Canadian Journal of Environmental Education 7(1):167-182.
Gastreich, Karin Rita. 2002. Si el norte fuera el sur: A case of squirrel monkey identities. National Center for Case Study Teaching in Science, State University of New York at Buffalo. https://sciencecases.lib.buffalo.edu/collection/detail.html?case_id=932&id=932
Gastreich, Karin R. 2001. Aprendamos en el Aula Verde: Actividades de Campo para la Educación Ambiental con Información para Facilitadores. Editorial Heliconia, San José, Costa Rica. 103pp.
Gastreich, K.R. 1999. Trait-mediated indirect effects of a Theridiid spider on an ant-plant mutualism. Ecology 80(3):1066-1070.