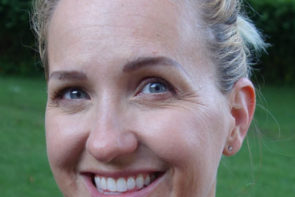 Emily Alley is an Assistant Professor of Strategic Communication at Avila University. She holds an MS in Strategic Communication from the University of Kansas.
During her undergraduate study at Pittsburg State University, Emily was the senior student announcer at KRPS, the local NPR station, and a DJ at a rock music station during her senior year.
She began her career in military public affairs, eventually serving as the Chief of Public Affairs for McConnell Air Force Base. Emily was the PA lead for the initial delivery ceremony of the KC-46 Pegasus, the culmination of an eight-year, $43 billion program which was the first AF mobility aircraft initial delivery in 27 years. She synchronized a team of 35, comprised of five communication functions: live video feed of the event; photo and video documentation; social media posting and monitoring; media escort; and the first initial press conference following the aircraft landing, which included the Secretary of the Air Force, Chief of Staff of the Air Force, and three sitting members of Congress. Her team generated $9.6 million in equivalent media advertising.
Her other major projects include multiple airshow events; assisting and documenting humanitarian work in Haiti following the 2010 earthquake; photo support following the BP Gulf oil spill; media support for the 2012 presidential inauguration; and serving as the acting lead for the Air Force Public Affairs office in Kandahar, Afghanistan during the capture of Osama Bin Laden.
She and her husband have an adorable Shih Tzu puppy.