Frequently Asked Questions
Have questions? Review these answers to frequently asked questions. If you still don't find what you're looking for, please contact us at 816.501.3624.
It depends on the number of first-year students we have that year. Any first-time, first-year student who comes to Avila, declares Radiologic Science as their major and meets the admission criteria will automatically get a spot in the program beginning the spring semester of their sophomore year. We accept 24 students per class, so the number of transfer students admitted into the program depends on the number of first-year students, which varies from year to year.
Although we listen to student concerns or requests, the Radiologic Science faculty decides which students are placed at each hospital. Students attend clinicals between the hours of 7:30am and 4:00pm Monday through Friday. All students are also required to complete a two week 2:00-10:00pm evening rotation during their final summer semester of clinicals.
You can download the application today! Applications will be accepted between January 15 and April 15 each year for the following spring. Interviews will be scheduled in April and May each year.
After the application deadline date, we will call all of the applicants to schedule an interview. This usually occurs after April 15. After we have completed the interviews, we will notify all applicants of their status. You will receive this notification in plenty of time to register for summer and/or fall classes.
If you don't receive a letter saying that you have been accepted into the program, you may receive one that says you are on a waiting list. This means that if one of the students who did get into the program does not meet the criteria at the end of the fall semester prior to beginning the program, they will lose their spot and be replaced by the first name on the waiting list. We usually have 10 names on the waiting list.
There is no way to be sure when and if we take any names off of the waiting list. Most years we have taken names off, and one year we took all names off and put those students into the program. Although that is a rare occurrence, it can happen.
If you don't get in after being placed on the waiting list, you will automatically be in the class beginning the following year, provided you still meet the criteria.
There are no Radiology classes in the evenings. You may, however, choose to take a required core course that is offered in the evening.
The program will take up most of your time Monday through Friday, 7:30 a.m.-4 p.m. Most students do have jobs that work around those hours.
There are limited scholarships available in some of the hospitals. The Missouri Society of Radiologic Technologists also offers a student scholarship for which you may apply. The program itself does not offer scholarships but the University may. Check with Student Financial Services to find out.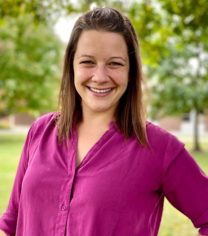 Contact
Sarah Sanford, M.S.Ed., RT(R)(CT), Program Director and Assistant Professor of Imaging Sciences
P: 816-501-3624 / E: sarah.sanford